Hanjin Shipping Co., South Korea's largest container carrier, has begun to undergo a creditor-led conditional restructuring program from May 4. Before the launch of the restructuring program (self-regulatory agreement), the company has also carried out the advanced work for negotiations with major ship owners to lower chartering fees as Hanjin Shipping President Seok Tae­-soo wrote a letter to foreign charterers in person saying the company is in financial crisis. However, there will be a bumpy road ahead for the struggling shipping company as Hanjin Shipping has more difficult charter terms for renegotiation with partners than Hyundai Merchant Marine.
Seven creditor banks, including the Korea Development Bank (KDB), held a meeting at the KDB headquarters in Yeouido, Seoul, on May 4t and decided to begin the process of a conditional workout program (a conditional self-regulatory agreement) for Hanjin Shipping. All creditors, except for Korea Credit Guarantee Fund which decided to stay out of the debt-relief talks, gave a nod for its revamp program.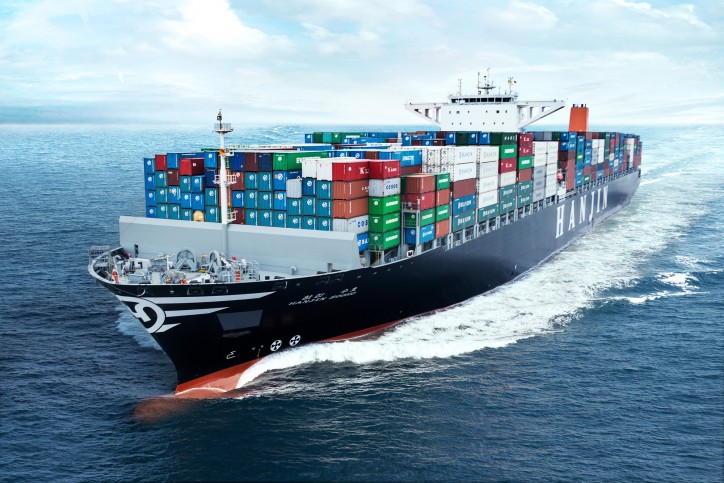 According to creditors, Hanjin Shipping has begun the workout program but it is just the first step to normalize the company. Under the conditional workout program, creditors readjust debts on the premise that Hanjin Shipping completes negotiations with the association of corporate bond holders on bringing down chartering costs. So, Hanjin Shipping should solve the problem from now on.
According to industry sources, Hanjin Shipping is facing difficulties as it is relatively slow in negotiation on charter fees compared to Hyundai Merchant Marine and major negotiators are stubborn. Hanjin Shipping currently charters 53 vessels from 17 different owners abroad. Out of 17, Canada's Seaspan has the most chartered ships. Seaspan is taking a strong stand saying the company has never lowered chartering fees since its foundation.
This is why President Seok asked for help in the letter to ship owners before renegotiation on chartering costs, saying "Our management has come to the conclusion that our own efforts alone may fall short of fully resolving the liquidity issues that we are facing." Seok also said, "We have raised our liquidity level by selling assets, improved cost efficiency and raised capital through a capital injection from our major shareholder. Unfortunately, however, the global economic environment surrounding the shipping industry has worsened for the last eight years." Hanjin Shipping currently charters 58 out of 95 container ships and 33 out of 56 bulk ships and tankers.
The meeting with the association of bondholders scheduled to be held on the 19th will also be a big ask. Hanjin Shipping should solve the issue with bond holders based on the results of the company's negotiations with ship owners on bringing down chartering costs. So, market watchers already say that the company will not be able to receive approval from bond holders if negotiations move at a snail's pace. Its corporate bonds worth 190 billion won (US$164.43 million) fall due at the end of June and Hanjin Shipping is also highly likely to overdue.
An official from creditors said, "Hanjin Shipping has begun its conditional workout program, but it will be meaningless if the company fails to negotiate on chartering fees with ship owners and readjusting debts with debenture holders. The results of negotiation on chartering costs and meeting with bond holders should be outlined by the end of June."
Source: BusinessKorea