CSBC Corporation, Taiwan, unveiled its highest-capacity domestically developed and constructed container vessels May 5 in the southern Taiwan port city of Kaohsiung, with Mayor Chen Chu describing them as a credit to the locally-based shipbuilder and China Steel Corp.
"Completion of the two ships demonstrates the leading-edge capabilities of Taiwan shipbuilding and steelmaking," Chen said during the launch ceremony at Kaohsiung Port's Terminal No. 2. "This represents the successful combination of technologies, techniques and materials, proving our shipbuilding is internationally competitive."
YM Window and YM Width are 368 meters long, 51 meters wide and can carry 14,198, 20-foot equivalent units (TEUs) of containers. A 40-foot container—the most commonly used size—is around two TEUs.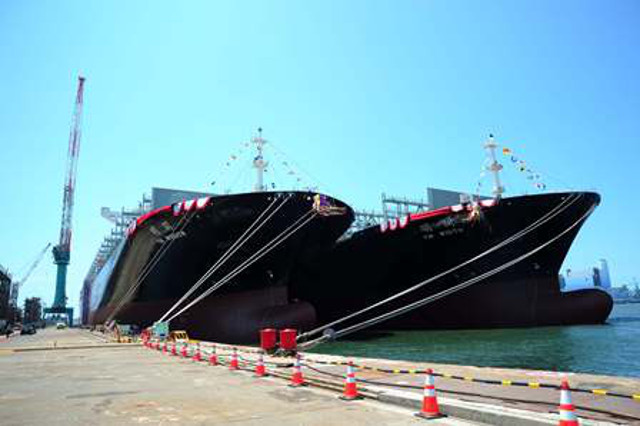 CSBC's YM Window (left) and YM Width are flying the flag for Taiwan in the 14,000 TEUs segment of the international container ship market. Image Courtesy: Kaohsiung City Government
CSBC Chairman Lai Sun-quae said the vessels are a significant step up from the company's last batch of 10 container ships produced from 2011 to 2015 that could carry around 8,000 TEUs.
"Window and Width are quieter and more economical," Lai said. "They are also easier to operate and boast a faster cruising speed of 23.3 nautical miles per hour, a number on par with rival vessels produced in South Korea.
The improved performance of the ships will help ensure they do not fall prey to pirates off the coast of Somalia as was the case with Maersk Alabama, a vessel of around 1,000 TEUs constructed by CSBC in 1998.
"Not many people know that it was our ship depicted in the 2013 box office hit 'Captain Phillips' starring Tom Hanks," Lai said.
According to CSBC, the vessels were commissioned by Canada-based Seaspan Corp. under a five-ship lease agreement with Yang Ming Marine Transport Corp.—the world's 10th largest fleet operator—based in the northern Taiwan port city of Keelung. CSBC expects to complete the remaining three vessels by the end of the year.
The highest-capacity ships in service are Geneva-based Mediterranean Shipping Co.'s Oscar class. Launched in 2015, they are 395 meters long, 59 meters wide and can carry 19,224 TEUs. Larger vessels with a capacity of around 24,000 TEUs are in the pipeline, but their economic viability is questionable given port congestion issues and additional handling costs.
Going forward, Lai said CSBC's order book is full until 2018 and believes the 10,000 to 14,000 TEUs segment of the container ship market offers the most promise. It is also eyeing a submarine contract possibly under consideration by the ROC navy.
The shipbuilding industry plays an important role in promoting the development of Taiwan's shipping, fishing and national defense industries, as well as boosting related industrial development like the steel and machinery industries. Kaohsiung is the nation's main shipbuilding center and has produced a number of world-class vessels in recent years.
These include Pan Shi, a stealth supply ship constructed by CSBC for the ROC navy in March 2015; Tuo Jiang, a stealth corvette constructed by Lung Teh Shipbuilding Co. Ltd. for the ROC navy at the same time; and Yilan and Kaohsiung, cutters constructed for the Coast Guard Administration by Jong Shyn Shipbuilding Co. Ltd. in March 2014.
Source: Taiwan Today