Hyundai Merchant Marine is working to assure the shipping public that it will continue to remain operational after the revelation that the South Korean carrier had been left out of the world's newest shipping alliance, THE Alliance.
HMM's fellow South Korean carrier Hanjin Shipping, however, has been included in the new vessel-sharing agreement with MOL, NYK Line, K-Line, and Hapag-Lloyd, which will cover all the major east-west trades: Asia-Europe, trans-Pacific, trans-Atlantic and Asia-Middle East/Persian Gulf/Red Sea.
"HMM is certain that entering THE Alliance is only a matter of time, and will surely take place once the company's continued efforts to stabilize its business ends," the company said in a statement.
HMM has been fighting off creditors and restructuring its debt and operations for the last several months but said that it hopes to join THE Alliance by June when its debt situation is more settled. The company in March was given an extension on principal and interest payments of its debt until June 29.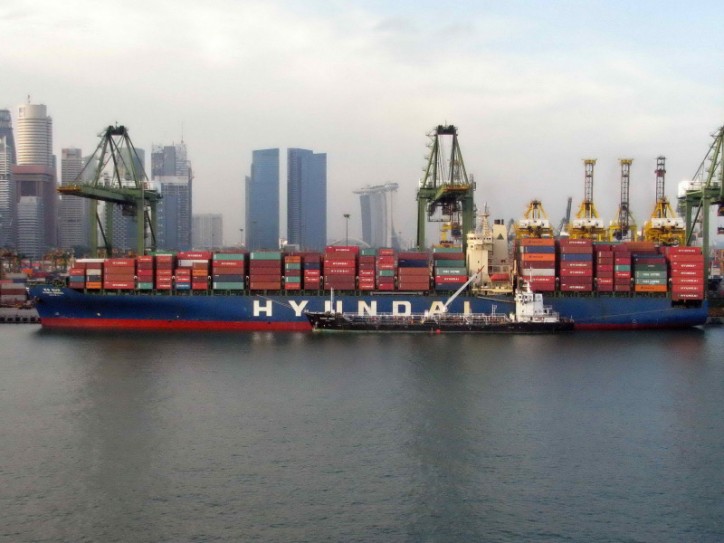 "Under the standing contract, the G6 Alliance, of which HMM is a member, will continue operating until March 2017, with no shift in its structure. This suggests that there won't be any changes regarding HMM's business and operation caused by the formation of THE Alliance for the time being," HMM said.
South Korea's second-largest shipping line also said that THE Alliance is not legally binding and membership can vary depending on factors such as each member's financial health and THE Alliance's market share.
HMM stressed that THE Alliance is still tentative and its membership is not yet final.
"HMM's entrance into THE Alliance is only being postponed as there have been several media reports since the beginning of this year about the possibility that HMM might be under court receivership," HMM said. "The current members of THE Alliance are going to determine HMM's participation once HMM's business is normalized."

HMM said, "Therefore, HMM is going to complete ongoing charter negotiations as well as debt adjustment via a scheduled bondholders' meeting. HMM will also execute a debt-equity swap for creditors to promptly normalize its business."
Media reports have stated the company is close to securing some type of agreement with its ship charterers, who own 85 of the 124 ships that HMM operates. HMM, however, has refused to confirm these reports and said it will release a statement when negotiations are completed.
HMM's current debt-to-equity ratio stands at over 800 percent and the normalization process should bring this down to 200 percent.
The company also said it had more than enough time to discuss its entrance into THE alliance since the U.S. Federal Maritime Commision must deliberate on THE Alliance, and its structure would not be confirmed until September.
Hapag-Lloyd and United Arab Shipping Company are currently in the middle of merger negotiations as container line consolidation continues to accelerate. This merger would also need regulatory approval. If the new entity receives that approval, it will join THE Alliance.
HMM posted a 2015 loss of 648.76 billion South Korean won ($553.4 million), reversing a profit of 21.8 billion won in the prior year. The loss impaired more than half of HMM's capital and resulted in its shareholders' equity falling to almost 60 percent year-over-year to 282 billion won. After an external audit, HMM was found to have long-term liabilities of 2.45 trillion won and, given the equity amount, HMM's gearing is very high at 8.69:1.
The Korea Development Bank, one of HMM's largest creditors, Friday issued a statement saying it supported the inclusion of HMM in THE Alliance and that HMM is more than capable of joining THE Alliance once its operations have been normalized.
"Normalization of HMM's business, including charter negotiations and debt adjustment, is expected to be concluded by the end of May. KDB believes that HMM will be able to enter THE Alliance once the company's financial condition is stabilized by dramatically bringing down its debt ratio to 200 percent. In addition, KDB will provide all necessary supports to HMM over the course of the company's continued efforts to normalize its business.

"KDB strongly asks all stakeholders, including shipowners, bondholders and creditor financial institutions, to join hands supporting HMM as their cooperation is essential to promptly adjust the company's standing debts."
Source: JOC