DryShips Inc. (NASDAQ:DRYS), an international owner of drybulk carriers and offshore support vessels, yesterday announced its unaudited financial and operating results for the quarter ended March 31, 2016.
First Quarter 2016 Financial Highlights
For the first quarter of 2016, the Company reported a net income of $55.4 million, or $2.05 basic and diluted earnings per share.
Included in the first quarter 2016 results are:
- Vessel impairment charges and loss on sales, of $40.8 million, or $1.53 per share.
- Net income pick-up from the Company's 40.4% ownership in Ocean Rig, of $116.5 million, or $4.36 per share.
Excluding the above, the Company's net results would have amounted to a net loss of $20.3 million, or $0.78 per share.
The Company reported a negative Adjusted EBITDA of $15.6 million for the first quarter of 2016. (1)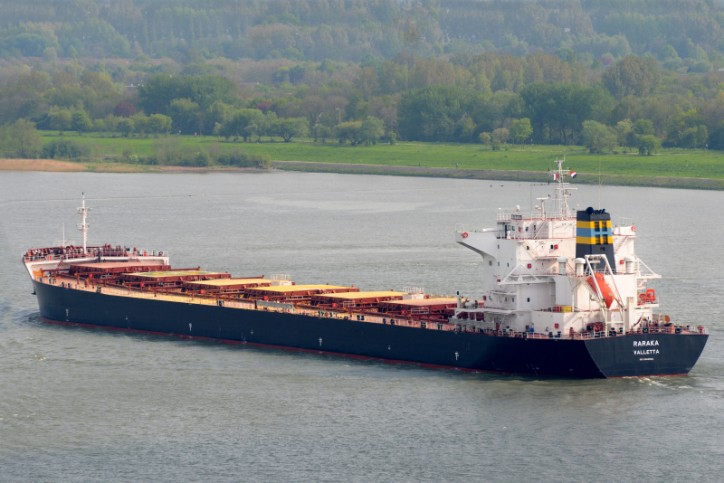 The 2012 built DryShips Bulk Carrier RARAKA - Image: Ria Maat/ Shipspotting
Recent Highlights
- On April 11, 2016, the Company received notice of termination from Petroleo Brasileiro S.A. (Petrobras) of the contract for the oil spill recovery vessel Vega Inruda effective as of April 6, 2016.
- On April 5, 2016, the Company sold all of its shares in Ocean Rig, to a subsidiary of Ocean Rig for total cash consideration of approximately $49.9 million. The Company no longer holds any equity interest in Ocean Rig.
Bank Update / Liquidity
The Company is presently engaged in discussions with its lenders for the restructuring of its debt facilities. Three of these bank facilities have matured and the Company has not made the final balloon installment. For the remaining bank facilities, the Company has elected to suspend principal and interest payments to preserve cash liquidity.
(1) Adjusted EBITDA is a non-GAAP measure; please see later in this press release for reconciliation to net income.
Please click on this link to view the entire report including the financial tables
Source: DryShips