Mermaid Maritime PCL (Mermaid) has announced that Mermaid's Western Hemisphere business unit (MSSW) has recently been awarded seven (7) different subsea projects in the Middle East with an estimated aggregate contract value of USD 11 million.
The various work scopes include subsea survey, inspection, repair and maintenance as well as light construction. The jobs will be performed in various offshore areas of Qatar and in the Kingdom of Saudi Arabia such as Manifa, Safaniya, Zuluf and Tanajib. Most projects will be completed by the end of August 2016.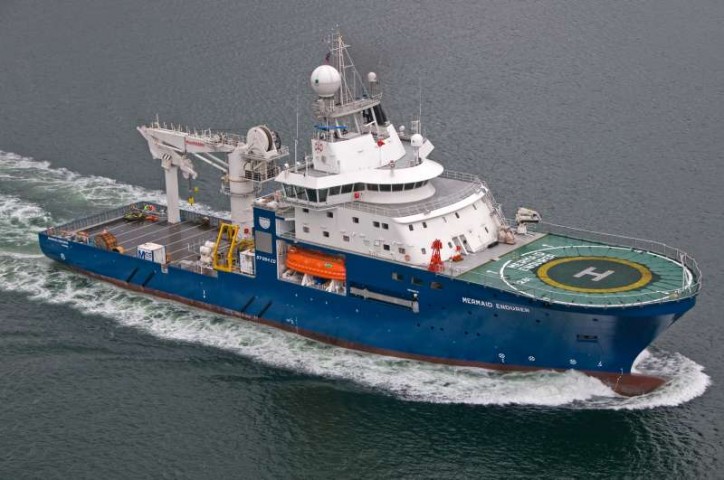 Mermaid's DP2 Dive Support Vessel Mermaid Endurer - Image: Tom Gulbrandsen / Shipspotting
In particular, Mermaid's DP2 Dive Support Vessel Mermaid Endurer has started working in Qatar on a light construction intervention with an estimated working period of circa 100 days commencing from 8 May 2016.
"Mermaid Endurer is the pride of the fleet of Mermaid, and we are pleased to have the ship deployed once again here in Qatar", commented Mr. Chalermchai Mahagitsiri, Mermaid's Chief Executive Officer. "Additionally, the chartered-in DP2 construction barge Mubarak Supporter has just completed a successful cable laying campaign, and will demobilise in the Kingdom of Saudi Arabia over the coming days."
Mermaid has also announced that Mermaid's Eastern Hemisphere business unit (MSSE) has been awarded a one (1) year extension of its subsea construction support services contract with a major engineering, procurement, construction, installation and commissioning (EPCIC) contractor in Thailand serving a major international upstream oil and gas operator.
The current existing contract was originally awarded for a two (2) year campaign ending in December 2016. The term extension expands work service to the end of December 2017. Total estimated value of the two-year contract for 2015 and 2016 is USD 51 million with an expected duration of approximately 325 days. The work scope for the one-year contract extension for 2017 will be similar to previous years although the duration has yet to be determined. The work will be completed using the DP2 Dive Support Vessel Mermaid Commander along with diving systems, plus associated equipment and specialist personnel.
"This is the twelfth consecutive year Mermaid is awarded the work. The contract term has been extended for one more year to the end of December 2017", said Mr. Chalermchai Mahagitsiri. "Our Experienced operational team, strategic local partnerships, strong financial discipline, and quality performance and safety record are key success factors that will ensure that we will survive and thrive in these challenging market conditions".
Meanwhile, Mermaid's associate company Asia Offshore Drilling Limited (AOD) has secured a three (3) month interim contract extension for its jack-up rig AOD I. The unit is now committed until July 2016 at a day-rate of USD 125,000 effective from January 2016. The contracts for jack-ups AOD II and AOD III are still due to expire in July 2016 and October 2016 respectively, but with a day rate of USD 125,000 in effect from January 2016.
"The AOD I, AOD II and AOD III are high specification jack-up drilling rigs. Built to the popular MOD V B-Class model by Keppel FELS in Singapore, these rigs are on long term drilling contracts from 2013 to 2016 in Saudi Arabia with extension options", said Mr. Chalermchai Mahagitsiri.

"The rigs had undergone customization at client expense to suit working conditions and workplace configuration and have achieved high operational efficiency, safety and reliability since commencement of their respective drilling programs to date. We know that the customer is pleased with its excellent performance and negotiation for contract extensions for all three jack-up rigs is in progress".
Financial Effects Assuming that the contracts had commenced and had been completed within the most recent financial year (the Company's last financial year ended 31 December 2015), the performance by the Company of the contracts would have had a nonmaterial effect on the earnings per share of the Company (on a consolidated basis) and a non-material effect on the net tangible assets per share of the Company (on a consolidated basis) for that financial year.
Source: Mermaid Maritime