The Boston Harbor Cruises' ship Majesty ran aground in Boston Harbor on Saturday. All passengers were unharmed and transferred to the Asteria, according to authorities, and the incident is under investigation.
The cruise ship ran aground off George's Island at around 7 p.m., according to the U.S. Coast Guard, who responded to the scene along with members of the Boston Fire Department and Massachusetts State Police.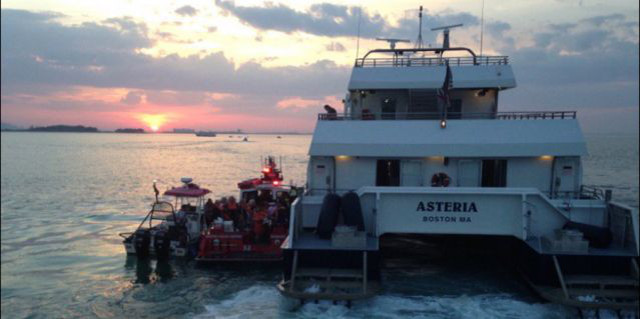 Passengers are seen boarding The Asteria after their ship ran aground in the Harbor Image: Twitter via Massachusetts Environmental Police
The ship ran aground in about four feet of water with the tide going out.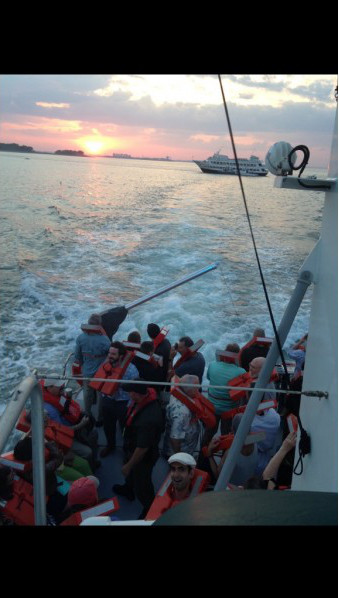 The Boston Harbor Cruises website calls the Majesty the "premier charter vessel" and says it is used for weddings and other events.
The vessel was carrying 152 people in all and five crew members remained on the boat. All of the passengers were transferred by around 8:20 p.m., and were brought to Boston's Long Wharf.
According to USCG report, the Majesty was safely refloated on Sunday morning. At approximately 3:30 a.m., during high tide, a small crew aboard the Majesty was able to restore power and safely move the ship.
The plan was approved and supervised by Coast Guard Sector Boston.
The commercial salvage vessel Gateway Endeavor was contracted by Boston Harbor Cruises and stood by in case needed.
A Boston Police marine unit was also on scene during the operation.
After refloating, Majesty safely sailed to Charlestown Pier 8 where it will be inspected by Coast Guard marine inspectors and investigation officers.
Boston Harbor Cruises "is fully cooperating with the Coast Guard in the investigation of the grounding," according to a news release.
Source: USCG