South Korean bulk carrier Pan Ocean Co. has won a series of shipping contracts in just a year after its graduation from court receivership. Its performance stands out as most of its competitors at home and abroad are struggling from low business and dearth of work orders.
The company won a contract to transport cargoes for Korea's largest steelmaker Posco across five out of its nine routes in a recent auction, said a person familiar with the matter last Wednesday. Pan Ocean and Posco will likely sign a definitive agreement after a legal review sometime in the middle of this month. Under the contract that will last one year, Pan Ocean will begin transportation services for Posco in the second half of this year.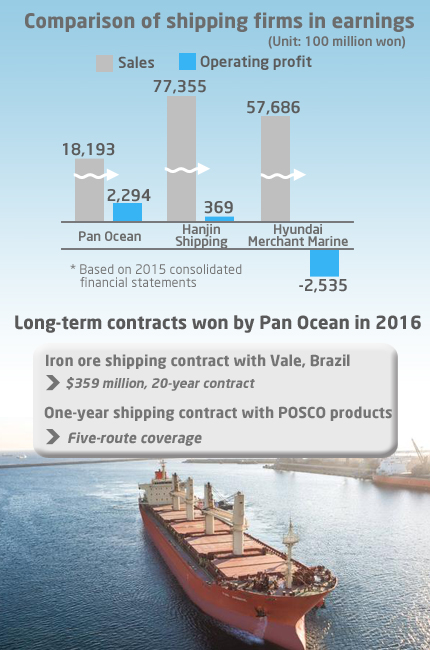 More than 10 Korean shipping companies are known to have participated in the Posco auction, where Pan Ocean secured the lion's share, the person added. With the contract, Pan Ocean will deliver Posco's steel products to America, Europe and Southeast Asia. Posco renews its one-year transportation contract every year for each territory. Routes are distributed to top three bidders, with the No. 1 player taking the largest amount of freight volumes.
Pan Ocean led the pack winning five routes. Details will be finalized after the definitive agreement this month, but industry watchers believe the company has won shipping orders of about 2 million tons, more than half of the volume allocated by Posco, mainly thanks to its price competitiveness.
Pan Ocean successfully cut vessel lease fees when going through corporate workout program after it sought court receivership, which allowing it to offer better price quotes than its rivals'. The company used to operate some 500 ships before it went under court control, but it now owns 79 ships and leases 114 ships following its aggressive streamlining efforts. The contract won from Posco is the first long-term local contract for Pan Ocean after it exited from court protection. In July last year, it was merged to Harim Group.
In March, it also inked a $359 million contract to transport 32 million tons of iron ore with Brazil-based Vale, the world's largest iron ore producer. A market watcher said a series of long-term contacts earned across various routes despite the ongoing crisis in Korea's shipping industry suggest that Pan Ocean is back on track for normal operations.
Source: Pulse