On Thursday (Jun16) the Baltic Shipyard in St Petersburg (Russia) floated out the universal nuclear icebreaker Arktika (project 22220). Metal for the body of this, the world's largest and most powerful icebreaker, was supplied by OJSC Magnitogorsk Iron and Steel Works (MMK).
MMK accounts for more than 50% of all metal supplies to Russia's shipbuilding industry. In 2015, MMK shipped 86,000 tonnes of metal to domestic ship builders, up nearly 11% year-on-year and up approximately 1.5x against 2013.
MMK-produced steel is used to construct a number of modern icebreakers. In addition to Arktika and the Project 22220's first series-produced icebreaker Siberia, it is used on the diesel-electric icebreaker Aker ARC 130 А, the largest multifunctional line diesel-electric icebreaker named Victor Chernomyrdin, and others.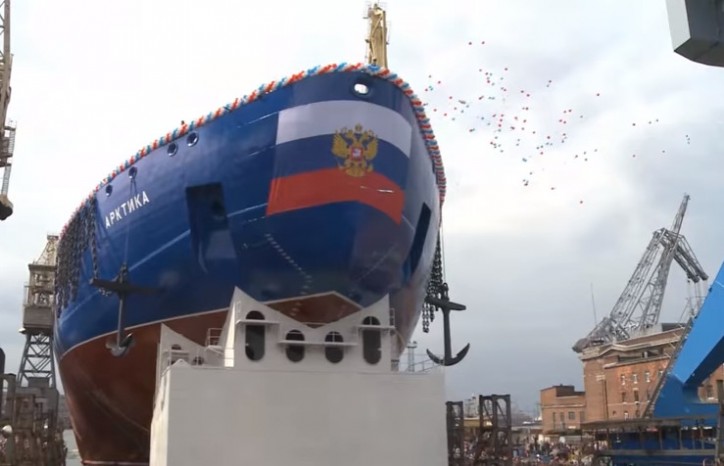 Nuclear icebreaker Arktika is set for sea trials in 2017. This ship has a displacement of 33,500 tonnes is 173m long and 34m wide, and will be able to reach speeds of up to 22 knots. Arktika will be able to pilot convoys of vessels in arctic conditions, breaking ice up to 3m wide.
MMK's steel production for the shipbuilding industry has been expanded following the commissioning of the thick plate Mill 5000 in 2009.
The thick plate mill can produce steel used to manufacture the Russian naval fleet, tankers, modern ice-class vessels. Mill 5000 steel for shipbuilding is certified by organisations such as Lloyd's Register, Bureau Veritas of France, the American Bureau of Shipping, Det Norske Veritas in Norway, Germanischer Lloyd, and the Russian Maritime Register of Shipping.
MMK is one of the world's largest steel producers and a leading Russian metals company. The company's operations in Russia include a large steel-producing complex encompassing the entire production chain, from the preparation of iron ore to downstream processing of rolled steel. MMK turns out a broad range of steel products with a predominant share of high-value-added products. In 2015, the company produced 12.2 million tonnes of crude steel and 11.2 million tonnes of commercial steel products. MMK Group had sales in 2015 of USD 5,839 million and EBITDA of USD 1,668 million.
Source: MMK