SCHOTTEL now offers its customers even more robust Rudderpropellers thanks to optimized coating processes. The result is maximum corrosion protection due to optimized resistance to abrasion and greater adhesive force in combination with thicker coats of paint.
The underwater elements of the unit are coated with several layers of extremely hard, two-component epoxy resin. Compared with a conventional standard coating, this is characterized by 2.3 times greater abrasion resistance and approx. 60% greater adhesion. For the above-water sections, SCHOTTEL uses a very dense and extremely durable two-component polyurethane coating.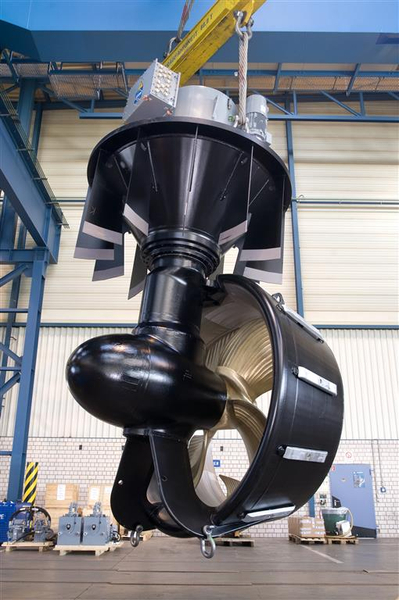 Modern processes at the new plant
In 2015, SCHOTTEL commenced operations at a new plant near the company's headquarters in Germany. Production is carried out here to the latest standards. Thanks to an optimized air-mix painting process and ideal conditions for preparation of the substrate, the propulsion systems can be protected even better for practical operation.
New blasting booths form the basis for substrate preparation of the entire
Rudderpropeller in accordance with the strictest cleaning standards. The coatings now used by SCHOTTEL meet the requirements of the highest corrosion protection class C5-M (Very high (marine)).
Environmentally friendly, durable and efficient
The environment also benefits from the new processes – both during production and with regard to the vessel itself: the paints contain considerably lower quantities of volatile organic compounds and solvents. The coatings are also harmless to aquatic organisms.
The very smooth surface also inhibits the adhesion of marine organisms, thereby also contributing to improved durability and efficiency.
If requested by the customer, an optional, self-polishing, antifouling final coat can also be applied.
The new coating systems can also be combined with paints of older generations as well as with most two-component epoxy and polyurethane coatings.
Source: Schottel