Monday night the bow of the sunken freighter Flinterstar was successfully lifted from the sea after 10 weeks of intensive preparation.
Marc Voorhuis, Director at Scaldis: "After being awarded the contract in April 2016, we immediately started the preparations and the mobilisation of the equipment to ensure a rapid response. Removing the cargo from the hold was the first step, whilst in parallel lifting chains were attached to the bow section of the Flinterstar. On 27th June 2016 all preparatory operations were finished and the lifting commenced.

The lifting activities are progressing slowly as planned, due to the fact the water in the hold needs to be pumped out. Health, safety and environmental considerations are of paramount importance. During operations an oil containment vessel was active to capture the small amount of gas oil that was released. After the removal of the water, the bow has been placed on a bespoke pontoon ready for transport. Following seafastening of the bow section the pontoon will be towed to Ghent to be recycled. The stern of the ship is planned to be lifted and removed in August 2016."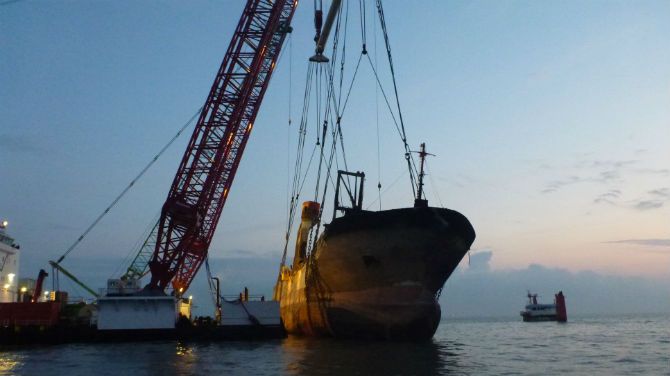 Image courtesy: Philippe de Backer / Twitter
SCALDIS, a joint company of DEME, Jan De Nul and Herbosch-Kiere, is a marine contractor specialised in the transportation and installation of offshore structures with a core business and expertise in salvage/wreck removal and heavy lifting.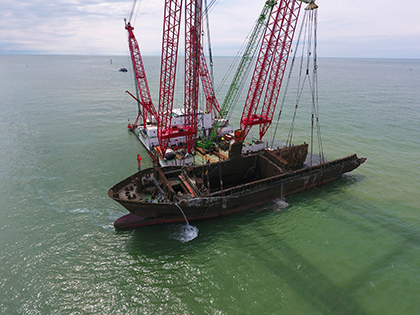 Executing projects globally, SCALDIS has earned its reputation of a solid and reliable partner to contractors and clients and provides turnkey and cost-effective solutions for projects with its multi-purpose heavy lift vessels.
SCALDIS' heavy lift vessel, Rambiz, is uniquely equipped with two cranes, shallow draft, large deck space and extensive accommodation facilities. The combination of two deck cranes enables 'Rambiz' to lift unusual structures that would otherwise require two separate vessels. The two cranes can work independently or be synchronised to provide an unrivalled flexibility in handling structures.
Taking into account the future development of the offshore industry SCALDIS has contracted to build a new and innovative self-propelled heavy lift vessel, making use of the unique features of the Rambiz yet improving on certain aspects.
Source: Deme - Group