Seaspan Corporation (Seaspan) (SSW) announced yesterday that it has acquired two newbuilding 11000 TEU vessels from Greater China Intermodal Investments LLC ("GCI") for a total purchase price of $195.6 million.
These vessels will commence 17-year bareboat charters with MSC Mediterranean Shipping Company S.A. (MSC) upon their respective deliveries, collectively producing annual cash receipts of approximately $17.7 million in the first full year of operation. MSC is obligated to purchase the vessels for a pre-determined amount at the end of their respective charters. These two vessels are sister ships to the three vessels Seaspan has scheduled for delivery in 2017 and chartered to MSC.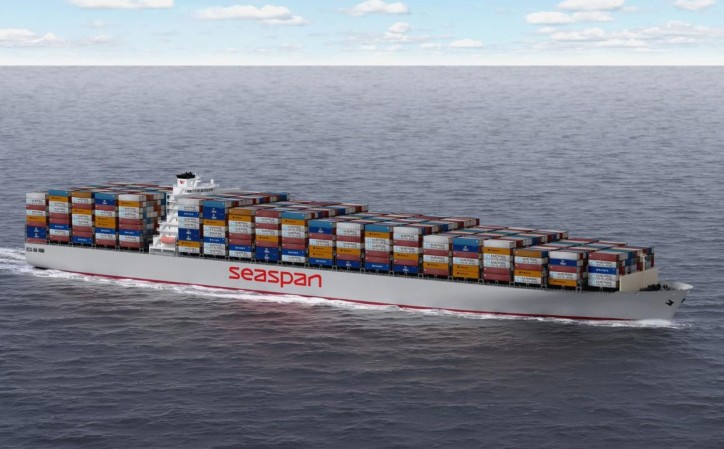 Photo for illustrative purposes only - Image: Seaspan
Seaspan will assume a total of approximately $88.1 million in remaining instalments under the shipbuilding contracts for these vessels as partial consideration for the purchase price. The balance under Seaspan's demand loan with GCI will be reduced by $107.5 million to fund the remainder of the purchase price.
Seaspan has entered into a 17-year lease financing arrangement with an Asian-based leasing company with total commitments of approximately $168 million to partially fund the acquisition, construction and delivery of the two vessels. Including this financing, Seaspan has accessed nearly $1.2 billion in loan, lease and equity financings from Asian-based sources in the past twelve months.
The acquisition and related financing are expected to be accretive to Seaspan's earnings per share and distributable cash flow once the vessels are delivered.
GCI is a joint venture among Seaspan, The Carlyle Group, Blue Water Commerce LLC (which is controlled by Seaspan's largest shareholder, Dennis Washington) and Tiger Management Limited (which is controlled by Seaspan director Graham Porter). Seaspan holds an approximate 11% interest in GCI. The transaction has been approved by the independent Governance and Conflicts Committee established by Seaspan's board of directors. The Committee retained independent legal and financial advisors to assist in its evaluation of the transaction.
Source: Seaspan Corporation