As of July 1st 2016, the enforcement of the Safety of Life at Sea Convention (SOLAS) requirements regarding the Verified Gross Mass (VGM) of packed containers will be effective. From then on, a packed container will not be allowed to be loaded on board a ship unless the VGM has been provided. In this regard, OPDR offers guidance as well as several customer-friendly ways for submitting VGM declarations.
The most important facts on the soon-to-be obligatory VGM legislation were communicated extensively, like the predefined methods of obtaining the weight or the obligation of the shipper to provide it. Yet, there are still uncertainties that could disturb the processes. Especially in short sea shipping, a smooth process is of prime importance since the sector directly competes with other modes of transport that are not obliged to provide the weight of the packed containers. In order to maintain a smooth and efficient procedure, OPDR will offer expert assistance in the entire process and provides several options for submitting the VGM. Furthermore, OPDR has arranged for weighing facilities in all ports.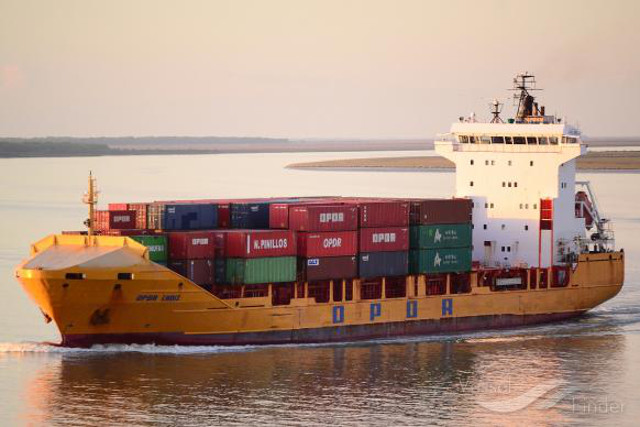 Container ship OPDR Cadiz - Image: JUANDOFER
OPDR offers easy solutions which are free of charge for the customer: The customers can either submit the VGM through the new EDI message type VERMAS, or by linking with OPDR via e-business platforms such as GT-Nexus, INTTRA, Dakosy or Destin 8. In addition, the OPDR Web-Frontend on www.opdr.com can be used for obtaining the tare weight and for submitting VGMs. Alternatively, customers can also use a written declaration or send an e-mail that matches the legal requirements. If customers wish to apply another method, they are welcome to contact the local OPDR representative in order to individually arrange the best solution.
Chief Executive Officer of OPDR, Till Ole Barrelet: "Our goal is to provide our customers the best possible service. Besides our various options for submitting the VGM, we will also offer solutions in the ports for customers who need the VGM in the first place – reliable and in full compliance with the SOLAS legislation."

The Oldenburg-Portugiesische Dampfschiffs-Rhederei (OPDR) has offered transport solutions within Europe as well as to and from Morocco for over 130 years. As a logistics company OPDR today offers tailor-made integrated supply chain solutions. A strong network in more than 25 European, North and West African countries ensures high standards of reliability and quality. The OPDR headquarters is based in Hamburg. The company employs over 250 people. Since July 2015, the OPDR Group is part of the CMA CGM Group and teams up with the UK-based MacAndrews & Company Ltd.
Source: OPDR