Six years ago, Maersk Line pondered two questions: What if we knew everything that our reefer containers knew? And if we did, what would that do for us internally, as well as for our customers?
That was the genesis of a project the company started to pursue in earnest in 2010. "It was a real greenfield area for us — and the industry in general," recalls Catja Hjorth Rasmussen, Maersk Line's head of remote container management, or RCM. "We teamed up with two partners — Ericsson for satellite connectivity and AT&T for mobility connectivity."
The collaboration helped guide the development of new devices, hardware and software, "because it's not easy to get connectivity when you're crossing the Atlantic, and it's not easy to get connectivity when you're a container that's stowed at the bottom of the vessel," Rasmussen said.
There were some challenges along the way. It took time to develop the hardware, and once it was ready, it had to be installed on 262,000 reefer containers in Maersk's fleet. "This took three years," Rasmussen said. "You can't simply remove a reefer container from the fleet and install the remote container device. We had to perform the installation when the reefer was at a specific port and during a specific time so it would not impact our operations and our customers' business."
The installation was performed in several key locations, mainly larger hubs where Maersk had the appropriate personnel in place and enough throughput so multiple installations could be performed at the same time.
The project was finalized in 2015. Now "remote container management has become part of our daily business. One of our primary deliverables is to figure out how we as a company internally can fully benefit from remote container management," Rasmussen said.
A big benefit of remote container management involves the optimization of checkups on the reefer containers. "Typically, when a reefer arrives from the terminal, it needs to be manually monitored," Rasmussen explained. "This means a technician must manually check the status of the reefer — that the set point temperature is correct according to the documentation and so on. But with remote container management, we can do it 'live' through the system. Not only can we optimize the time that our technicians spend in the terminals and on the front lines, we can make sure they only need to attend to reefers that actually require a technician's inspection because the system sends an alarm notification if something requires attention."
Maersk Line has been rolling out the remote container management system globally since late last year. More than 350 terminals are using the technology, which advises all specifics, such as alarm codes linked to tools, and also assigns the correct party to perform the work.
"RCM allows us to utilize our resources in the right way and optimizes our processes," Rasmussen said. "Most importantly, it improves our cargo care because we are able to react faster. Another benefit is safety, as the technology means less need of personnel on the ground in the terminal since RCM covers this monitoring 'live.' "
RCM also has slashed the time it takes to conduct pre-trip inspections on reefer containers. Rasmussen compares pre-trip inspections prior to RCM as having to conduct full service checks on your car every time you needed to drive it. "However, with RCM we can actually predict the state of the container before arrival," she said. For instance, "During the final three weeks of the reefer container's journey, we collect various data points with the help of an algorithm we developed, which allows us to predict the state of the reefer container."
She said the reefer container either arrives in a "red" or "green" state. Red means it goes through the full pre-trip inspection before it is deployed to the customer. Green means it goes for a visual inspection instead. It still gets inspected by a technician, but rather than a full service check that can take up to six hours, the visual inspection takes only about 12 minutes.
Maersk hasn't formally launched RCM to beneficial cargo owners, Rasmussen said.
Although the concept was a "response to a demand in the marketplace back in 2010, we quickly identified that we needed to understand it internally first before we introduced it to our customers," she said. "We are maturing and utilizing the technology internally first."
The first milestone was reached in May 2015 with completion of the global rollout of RCM. In October, installation of the remote container devices was completed throughout Maersk's reefer fleet. "Now, we are using the system internally throughout nearly 100 percent of our organization," Rasmussen said.
Formal plans to launch RCM are tentatively set for 2017.
The remote container devices installed on each reefer container offer rich data. The units are able to track set point, supply and return air temperature, as well as power supply and GPS coordinates, Rasmussen said. "Primarily, the RCM system identifies abnormal performance of the reefer," Rasmussen explained. "If there is any chance that abnormal performance can risk or damage the cargo, it will send an alarm notification. The system identifies the type of alarm and how critical it is, then combines that information with the location of the reefer. Once the notification is sent to the closest party, that party is responsible for taking action."
In the future, the remote container devices may collect other types of data. "We continue to keep our finger on the pulse to see if there are any new types of demands in the market," Rasmussen said. "When we eventually go live with RCM in the commercial marketplace, we will definitely figure out what matters to the market and what is important.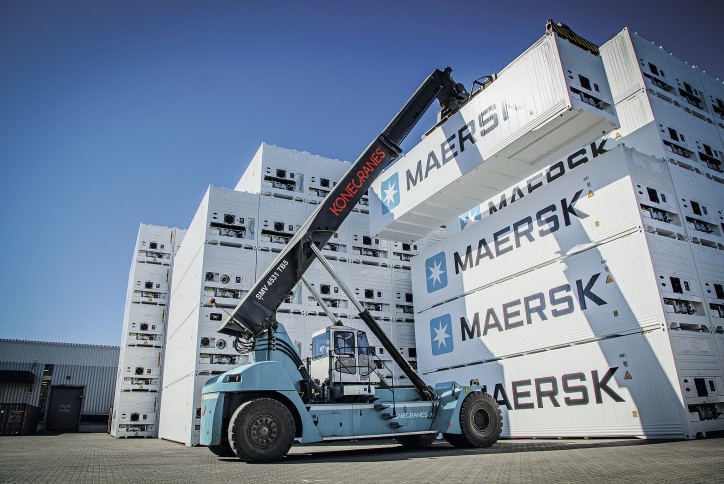 "Overall, this technology allows us to know our assets even better," she said. "The level of granularity it provides is something we haven't had before, so part of our work is figuring out what to do with all of this data. We are using RCM to make improvements to our internal processes. However, this is still a reactive stance. Ultimately, we want to use the data to allow us to move beyond being reactive to being proactive."
For instance, Maersk Line could use data gathered from the RCM system and combine it with other in-house data to open up new opportunities in preventive maintenance on the carrier's reefer fleet, preventive claims handling, and/or helping customers avoid cargo damage.
"We actually started an initiative where we are using the RCM technology to monitor the set point temperature of our reefers," Rasmussen said. "If these temperatures deviate from the predefined thresholds in the system, we can determine what commodity it is and what action is required to avoid damage to the cargo. We have piloted this initiative for some time, and in 15 weeks, we were able to intervene in 180 instances. So for 180 reefers we have been able to remotely change the set points to avoid a claim in the later stages. That is really an example of cargo care."
As for the evolution of RCM, she said, "We want to find answers to questions that we haven't even asked ourselves yet. That's the power of this new technology."
Contact Lara L. Sowinski at lsowinski@gmail.com.
Source: fairplay.ihs.com