The engines on board the Bencomo Express (CATERPILLAR 3618) are engines that are specially designed for high-speed vessels because of their high power density (relationship between power and weight): 7200 kW with 35 tonnes.
A lightweight vessel is crucial in order to reach commercial speeds and thus to maintain the current levels of service. Currently, dual-fuel engines that are on the market are too large and heavy to be used in high-speed vessels. Thus, solutions for the dual-fuel engines weight must be found for high-speed vessels to be fuelled by LNG whilst maintaining the original speed and capacity.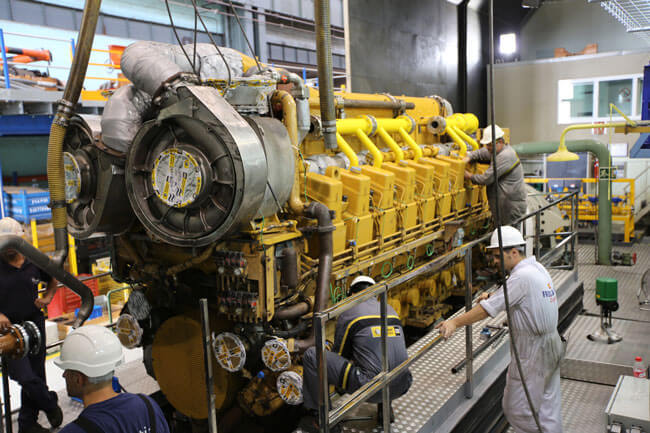 Image Credits: fundacion.valenciaport.com
The innovative technology proposed for retrofitting the Bencomo Express consists of converting the four engines currently on the Bencomo Express without the need to replace them with new ones.
Before retrofitting the four engines on the vessel, an external engine with the same characteristics has already been converted to run on dual-fuel (FO CAT3618DF) in order to guarantee the safe and reliable functioning of the engines on board in compliance with current technical and emissions regulations.
The external engine is a second hand sister engine as the CATERPILLAR 3618 engines were discontinued. This engine has been adapted installing a conversion kit to become a dual-fuel engine. A thermodynamic simulation running on dual-fuel was carried out to optimise the conversion kit for these particular engines, defining consumptions and establishing the final test bench protocol required.
The FO CAT3618DF engine is ready to be tested in Navantia (Cartagena) following the test bench protocol established by the classification society DNV-GL.
The GAINN4SHIP INNOVATION project is coordinated by Fundación Valenciaport and co-financed by the European Union via the "Connecting Europe Facility" programme.
Source: marineinsight.com