Mitsui Engineering & Shipbuilding has completed construction of the world's first ME-GIE ethane-operated two-stroke diesel engine.
The newly completed Mitsui-MAN B&W 7G50ME-C9.5-GIE is the first engine in a series of three for installation in three 36,000 cubic meter ethylene carriers which will carry ethane as cargo. The vessels are being built at Sinopacific Offshore Engineering in China for Hartmann Schiffahrt of Germany and Ocean Yield of Norway.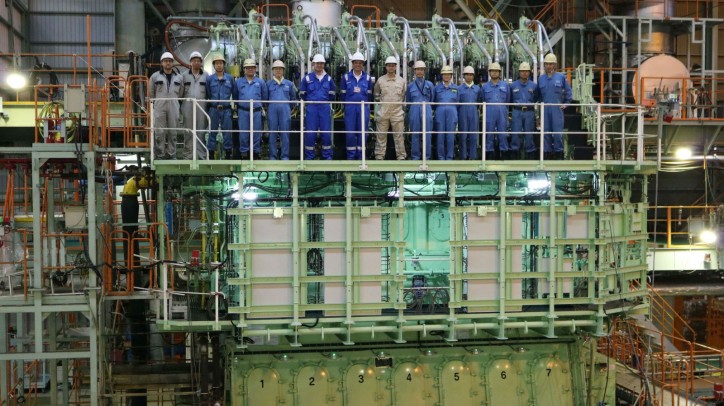 Ethane is one of the natural-gas liquids found in natural gas, and it frequently separated removed and sold as a separate product.
MAN Diesel & Turbo reports that ethane was chosen as fuel, in preference to heavy fuel oil, due to its more competitive pricing as well as the significantly shorter bunkering time it entails. As a fuel, its emissions profile is also superior to heavy fuel oil – in which respect it is similar to methane. Compared to heavy fuel oil, it also contains negligible sulfur, 15-20 percent lower CO2 and emits significantly fewer particles during combustion.
The high-pressure gas injection ME-GI engines will be set up such that they can easily be converted to run on methane as an alternative.
MAN Diesel & Turbo currently has eight ME-GIE engines on order. The company says the ME-GI engine represents a highly efficient, flexible, propulsion-plant solution. An ME-LGI counterpart that uses LPG, methanol and other liquid gasses is also available and has already been ordered.
Ethylene carriers are generally considered the most sophisticated of all gas tankers and are capable of carrying most liquefied gas cargoes, but also ethylene at its atmospheric boiling point of −104 °C. These vessels have insulated five percent nickel-steel cargo tanks and can accommodate most liquefied gas cargoes up to a maximum specific gravity of 1.8 at temperatures ranging from −104°C to +80 °C at a maximum tank pressure of four bar.
Source: maritime-executive.com