A cargo vessel that was confiscated in 2009 by the Philippines Bureau of Customs (BOC) for being used in gun smuggling sank in Manila Bay on Sunday (Jul 17).
Philippine Coast Guard spokesperson Commander Armand Balilo said MV Captain Ufuk sank after water seeped through a hole on the ship. He allayed fears of an oil spill, saying the vessel no longer had fuel.
"We're coordinating with Customs for salvage operations. It has to be removed because it is a hazard to navigation and the danger it poses when there is typhoon," Balilo added.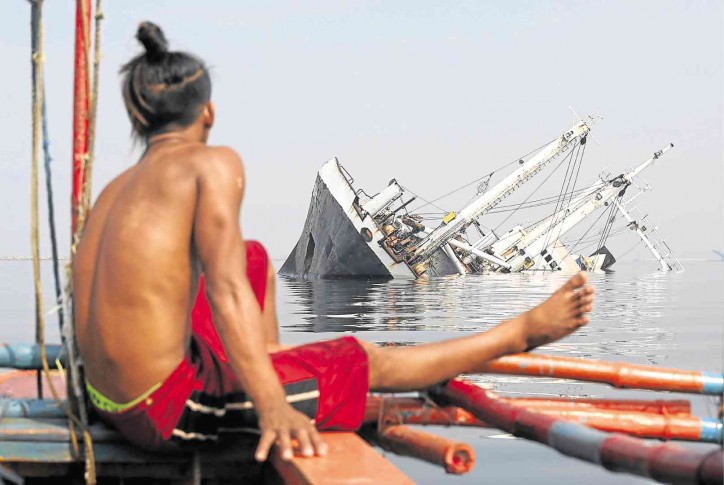 A fisherman has a front-row view of the sinking of the 2,450-ton MV Captain Ufuk, a cargo ship confiscated by the government for gun smuggling. The ship sank after it started taking on water through a hole. MARIANNE BERMUDEZ
The cargo vessel which has been anchored in Manila Bay caught the attention of bikers and joggers in the area. Some bystanders claimed that they saw it slowly tilting to one side until it sank.
Before the incident, MV Captain Ufuk had been in the custody of the BOC since it was seized by the government in 2009.
According to local media reports, the Philippine authorities seized the Panamanian-registered 2,450-ton ship after 54 high-powered rifles worth about P25 million were found on board when it sailed without notice into the Mariveles port, located at the mouth of Manila Bay.
The captain was from South Africa while the 13 crew members were from Georgia and Jordan.
The Customs Intelligence and Investigation Service said it learned that some Filipino politicians had ordered the guns from an international gunrunning syndicate.
Source: Inquirer