Japanese marine transporter Kawasaki Kisen Kaisha apparently suffered a group pretax loss of roughly 5 billion yen ($47.8 million) in the April-June period, as a third straight quarter of red ink underscores a grim business environment.
The loss also would represent a steep downturn from the year-earlier 14.5 billion yen profit. Sea shippers mainly offer container vessels — which transport manufactured goods, parts and perishable food — along with bulk carriers, which haul minerals and grain. But a supply glut for those vessels is shrinking shipping rates.
Among domestic rivals, Nippon Yusen's pretax profit likely plummeted by over 80% in the April-June quarter from the year-earlier 21.5 billion yen, and the biggest Japanese shipper might even report a loss. Pretax profit for Mitsui O.S.K. Lines also is seen to have plunged.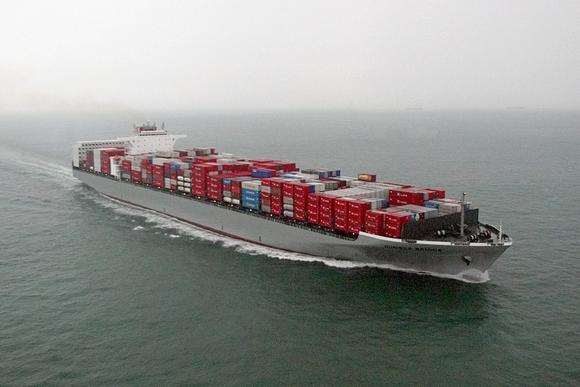 North America-bound Asian containerships conveyed the equivalent of 3.83 million 20-foot containers during the April-June quarter, down 0.3% from the year-earlier period, data from the Tokyo-based Japan Maritime Center shows. Shipping rates were around $1,450 per 20-foot container, about half the quote from a year earlier. Those fees are even lower than during summer 2009 in the wake of the global financial crisis.
Though rates are slowly recovering for Europe-bound routes from Asia, "market conditions are worse than initially forecast," an executive at a major ocean carrier said.
The Baltic Dry Index, the international economic indicator for bulk carriers, fell below 300 points in February, then rebounded above 600 in mid-April. However, for certain operations including bulk transport, marine shippers use an accounting standard in which earnings are booked when the voyage is completed. During the April-June period, those companies booked a number of ships before the rate recovery, so the effect of the rebound was apparently limited.
For the vehicle transport business, which is considered a steady source of income, the number of ships going to resource-rich nations slid. Tankers apparently have not contributed to earnings like they did last year amid falling crude oil prices.
Kawasaki Kisen and Nippon Yusen initially projected an average exchange rate of 110 yen per dollar for the April-June period. Mitsui O.S.K. assumed a rate of 108. Because revenues are chiefly dollar denominated, a stronger Japanese currency would squeeze pretax profit. Not only is the yen currently trading as strong as the 104 range, fuel prices are rising. All three companies — which present first-quarter numbers Friday — likely will downgrade earnings projections for the full year ending March 2017.
Source: Nikkei