Highlights
• Strong first half year leading to proportionate EBITDA of USD 298.6 million
• Q2 profits affected for non-recurring charge related to Suezmax joint ventures termination
• Rates decline in June reflect seasonal trading patterns likely to persist through Q3
• Interim dividend to be announced on 25 August with final half year results; returns policy re-affirmed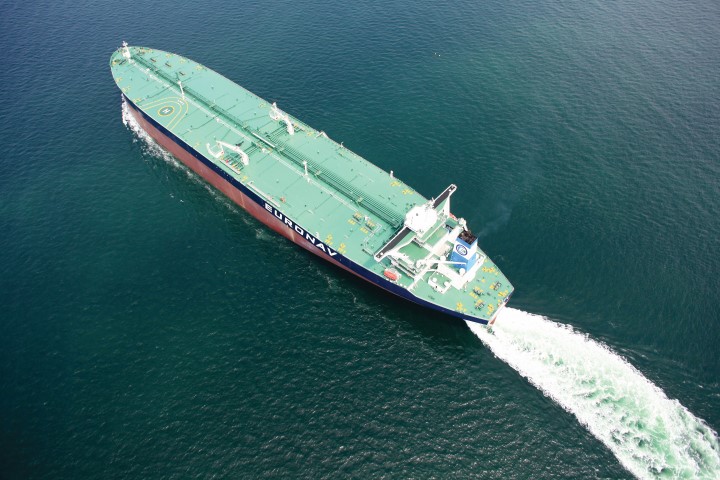 Euronav 299,533-dwt VLCC Anne - Image courtesy: Euronav
Euronav NV (NYSE: EURN & Euronext: EURN) (Euronav) today reported its non-audited financial results for the second quarter and the first half of 2016.
Paddy Rodgers, CEO of Euronav said: "The seasonal adjustment in freight rates has been exacerbated by a combination of factors acting simultaneously to press freight rates lower. Notwithstanding short term headwinds Euronav anticipates a seasonal rate recovery into the winter supported by recent upgrades in anticipated crude demand (IEA) and if current disrupting market factors dissipate. Medium and longer term prospects for the tanker market remain constructive, underpinned by a solid recurring demand for crude, structural change in financing likely to constrain future vessel supply growth and a likely acceleration in the retirement of older ships from 2017 onward".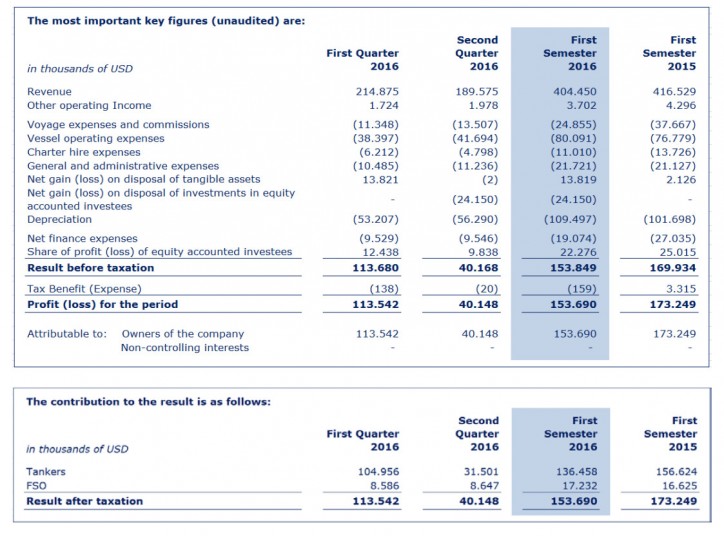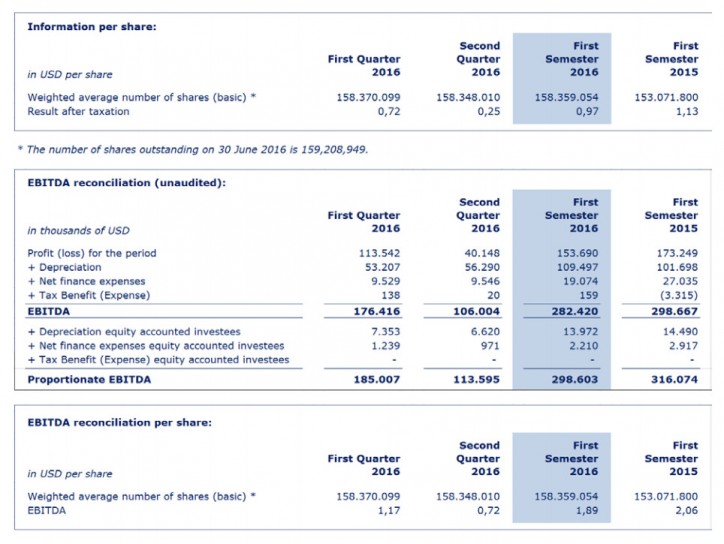 For the first half of 2016 the Company had a net result of USD 153.7 million or USD 0.97 per share (first half 2015: USD 173.2 million and USD 1.13 per share). Proportionate EBITDA for the same period was USD 298.6 million (first half 2015: USD 316.1 million).
The result is negatively affected by a non-recurring charge (non-cash) related to the termination of the joint ventures with Bretta Tanker Holdings, Inc. covering four Suezmax vessels as announced on 20 May 2016. Euronav assumed full ownership of the two youngest vessels, the Captain Michael (2012- 157,648 dwt) and the Maria (2012 – 157,523 dwt) in early June. In accordance with IFRS 3 (Business Combinations), Euronav is accounting this transaction as a step acquisition and therefore had to re-measure to fair value Euronav's non-controlling equity interest in the two joint ventures it acquired as well as to measure at fair value the consideration transferred, including Euronav's interest in the other two joint ventures. On that basis, Euronav has recognized a loss (non-cash) of USD 24.2 million in the second quarter.
As a consequence of the termination of the joint ventures, the Company will account directly for the two entities owning the Suezmax vessels, instead of accounting for 50% of four vessels using the equity method. Euronav has compensated Bretta Tanker Holdings, Inc. for the difference in value due to the younger age profile of the ships it took over as well as the voyages in progress and has paid the sum of USD 15.1 million upon closing the transaction.
Full financial report can be found here
Source: Euronav