Wan Hai Lines signed a cooperation agreement with a California company, Advanced Environmental Group LLC (AEG), on 5th July 2016 to construct a barge fitting with Advanced Maritime Emissions Control System (AMECS), which connects to the exhaust ports of container ships to scrub pollution while calling the Port of Long Beach.
"As the Green Port, Long Beach encourages and supports innovative ways to meet State and Federal environmental requirements. We believe that environmental sustainability and economic prosperity are two sides of the same coin and we are always looking for new approaches to reach our zero emissions goal. We applaud Wan Hai for their commitment to green operations. " Port of Long Beach CEO Jon Slangerup remarked.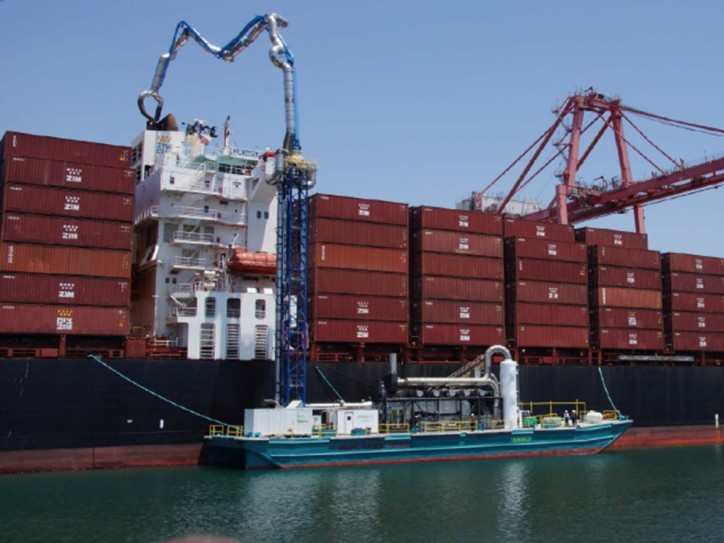 AMECS barge system - Image courtesy: Wan Hai
AMECS barge system has been awarded several patents in USA and is the only alternative to shore power granted the approval by California Air Resource Board (CARB).
The Vice Chairman Mr. Randy Chen signed a cooperation agreement with AEG
"We believe that the AMECS solution is the most flexible alternative to meeting the CARB requirements. By utilizing a barge-based solution, we will be able to deploy the most suitable ships for our services for many years to come," said Randy Chen, Vice Chairman of Wan Hai Lines.
Wan Hai further indicated that the company won the award "Best Green Shipping Line 2016" by AFLAS this June. However, Wan Hai isn't resting on the laurels. Instead, it continues to establish appropriate environmental management systems based on the characteristics of maritime transport.
"We would like to thank Wan Hai for their commitment to the environment, for their partnership with AEG, and for sharing the common goal of our company and The Port of Long Beach of bringing cleaner breathing air to the San Pedro Bay Port Complex and eventually to the world," said Ruben Garcia, Managing Director of AEG.
Source: Wan Hai