Emergency response exercise along Straits of Johor is part of bilateral cooperation under Malaysia-Singapore Joint Committee on the Environment
The Maritime and Port Authority of Singapore (MPA) and the Marine Department of Malaysia (MDM) today conducted a joint chemical spill exercise at sea along the East Johor Strait to test the Joint Emergency Response Plan (ERP) for chemical spill incidents and the communication linkages between the Operation Liaison Officers (OLOs) and the Environment Liaison Officers (ELOs) in Malaysia and Singapore.
Jointly developed by MPA, MDM, the National Environment Agency (NEA) and Johor Department of Environment (DOE), the ERP seeks to tackle potential chemical accidents involving the seaborne transportation of hazardous chemicals along the Straits of Johor. The emergency response exercise is part of the bilateral cooperation programme under the Malaysia-Singapore Joint Committee on the Environment (MSJCE).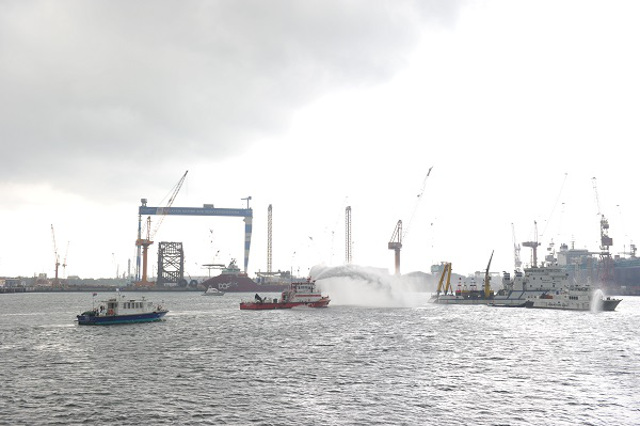 Image courtesy: MPA
In the event of a chemical spill incident at sea, MPA has put in place the Chemical Contingency Plan (Marine), which covers the roles and responsibilities of the responding agencies for the cleanup operations. MPA will monitor and coordinate cleanup operations at sea while NEA is responsible for monitoring the air and water quality, and to coordinate cleanup efforts at affected shore areas.
Today's exercise simulated a collision between a chemical tanker "MT MAY 2016" departing an oil terminal in Pasir Gudang, Malaysia, and a cargo ship "MV JUN 2016" departing an adjacent shipyard, resulting in spillage of chemical, Styrene Monomer (approximately 30 metric tons spilled). To simulate search-and-rescue coordination efforts, the exercise scenario also incorporated two (2) crew members of "MV JUN 2016" falling overboard as a result of the impact caused by the collision.
As the exercise scenario originated from and occurred in Malaysian waters, MDM led the response efforts with MPA supporting the Malaysian authorities for seaward response operations according to the Chemical Contingency Plan (Marine) in areas such as spillage cleanup and search-and-rescue efforts. NEA supported the exercise by monitoring the air and water quality for signs of chemical contamination, information exchange with DOE, and stood ready to coordinate cleanup efforts along Singapore's shorelines. In total, Singapore deployed four (4) vessels, thirty (30) officers and ten (10) observers to support the exercise.
"The Straits of Johor is a busy waterway. Regular bilateral exercises are vital to strengthening regional and multi-agency response capabilities. Today's exercise ensures that should collisions leading to chemical or oil spills occur, all agencies are ready to respond swiftly and effectively," said Mr Andrew Tan, MPA's Chief Executive.

NEA Chief Executive Officer Mr Ronnie Tay said, "Spills can have far-reaching consequences on the environment and forums such as the MSJCE allow us to hone our bilateral response to protect our shared environment from pollution. We are heartened by the outcome of today's exercise, which clearly demonstrates the operational readiness of both countries to control and mitigate chemical spill incidents in the Straits of Johor."
Source: MPA