MPI Offshore announces that its Wind Turbine Installation Vessel MPI Adventure installed the first of 72 SWT-4.0-130 offshore wind turbines on the Sandbank offshore wind farm. MPI Adventure is capable of installing 6 of these complete offshore wind turbines per cycle.
After MPI Adventure completed its contract to assist with the commissioning of the offshore substation on the Sandbank offshore wind farm, she has re-mobilized for the offshore wind turbine installation works. On July 28th, well in advance of its original schedule, the vessel now completed the installation of the first turbine.
Offshore Support Vessel MPI Adventure - Image: Ian Greenwood
MPI was responsible for the design, engineering and manufacturing of the sea fastenings which will be used during the transportation and installation of all the above mentioned turbines. MPI also has and will continue to provide project management throughout the whole turbine campaign.
When the wind farm will be completed in 2017, it will be able to generate green electricity for more than 400,000 households. The Sandbank offshore wind farm is located approximately 90km west of the island of Sylt in the German Bight.
Vroon's activities in the wind offshore-support sector operate under the MPI banner. MPI is active in the offshore wind-turbine-installation and -maintenance markets with a range of vessels, equipment and service offerings.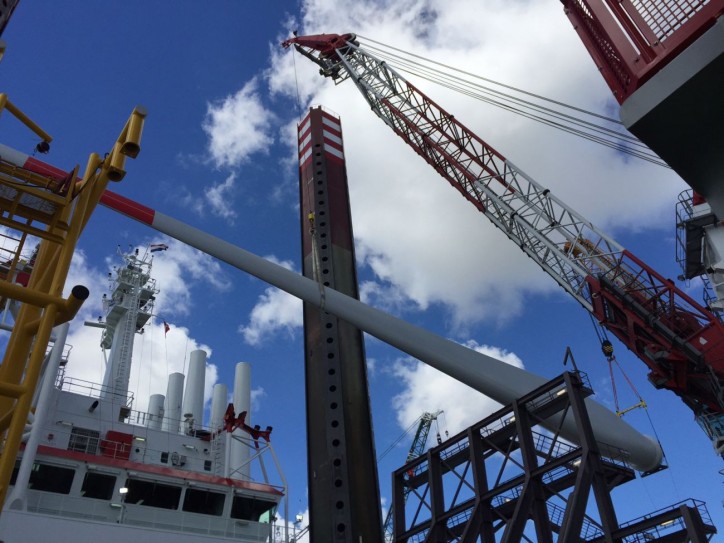 MPI Offshore, based in Stokesley (UK) and Breda (the Netherlands), has been pioneering the offshore wind-turbine-installation business since 2003, when the first dedicated wind-turbine-installation vessel, MPI Resolution, was delivered. During the past 13 years MPI has been involved in numerous windfarm construction projects in nearly all countries around the North and Baltic Seas.
MPI operates four dedicated wind-turbine-installation vessels, as well as a fleet of 14 workboats. In addition, MPI provides a range of engineering, consulting, manpower and equipment rental services.
MPI is a subsidiary of Vroon Group, a Dutch-based, diversified ship-owning group with an extensive North Sea offshore fleet.
Source: MPI Offshore