The US Navy, Marine Corps (USMC) and the Republic of Singapore Armed Forces have concluded the 22nd annual Cooperation Afloat Readiness and Training (CARAT 2016) exercise at the Changi Naval Base.
The exercise aimed to address shared maritime security concerns and improve interoperability among participating forces for the two nations.
Conducted over a period of two weeks, the exercise consisted of shore-based and at-sea training engagements in multiple warfare areas, as well as the ship anti-submarine warfare readiness effectiveness measuring (SHAREM) drill.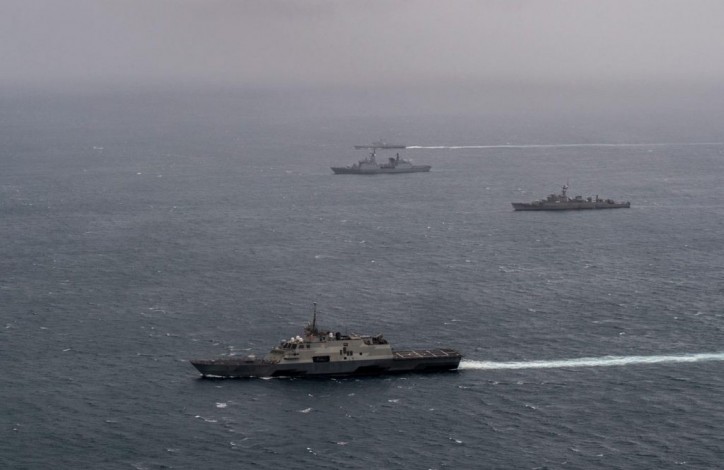 Ships from the Bangladesh and U.S. navies gather in formation during Cooperation Afloat Readiness and Training (CARAT) Bangladesh 2015. Photo: US Navy
Destroyer Squadron 7 commodore captain HB Le said: "In order to ensure we operate effectively when our countries call upon us, we have continued to add complexity and diversity into CARAT exercises.

"In 2016 our navies trained together in events that encompass a wide range of warfare areas, and I think this displays our mutual commitment to ensuring we are prepared to work together during times of crisis, at a moment's notice."
The six-day sea phase saw the US and Republic of Singapore navy (RSN) being trained in air defence exercises, gunnery exercises, cross-deck helicopter operations, anti-submarine warfare exercises, and complex surface warfare tactics.
During the ashore phase, the two navies took part in two community service events and held professional exchanges and training in anti-submarine warfare, military law, aviation, damage control, and medical operations.
The exercise witnessed participation from more than 1,000 sailors and various US naval assets, including Arleigh Burke-class guided-missile destroyers USS Spruance (DDG 111) and Stethem, with embarked MH-60R helicopters.
CARAT is a series of bilateral naval exercises between the US Navy, USMC, and the armed forces of Bangladesh, Brunei, Cambodia, Indonesia, Malaysia, the Philippines, Singapore, Thailand, and Timor-Leste.
Source: Naval Technology