Nakilat-Keppel Offshore Marine (N-KOM) has signed a fleet agreement with Samos Steamship Company during the recent Posidonia exhibition held in Athens. The Greek shipping company is an existing client of N-KOM, with several repairs undertaken for their fleet of tankers to date.
Under the fleet agreement, N-KOM will be the preferred shipyard in the Middle East for the repairs of all vessels owned by Samos Steamship Company.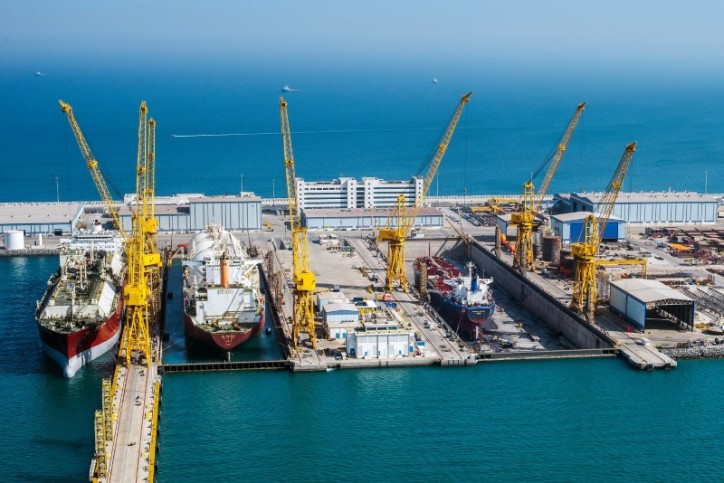 Image courtesy: N-KOM
Managing Director of Nakilat Eng. Abdullah Fadhalah Al Sulaiti said, "We are pleased to be strengthening our strategic partnership with our client Samos Steamship through the signing of this fleet agreement, during one of the largest international shipping events of the year no less. Nakilat has enjoyed successful long-standing partnerships with Greek shipping companies such as Maran Gas Maritime, and we look forward to the continued support from our Greek and other International clients to grow Qatar's reputation as a maritime centre of excellence in the region."
Managing Director of Samos Steamship Company Mr Anastassios Tzamouranis said, "We have been very satisfied with the high quality and timely repairs of our tankers by N-KOM over the years and are happy to further grow our partnership with this fleet agreement."
About N-KOM
Established in 2007, N-KOM is a joint venture between Qatar's premier gas shipper Nakilat and leading offshore rig constructor and ship repairer Keppel Offshore & Marine Ltd. From its strategic location within the world-class Erhama Bin Jaber Al Jalahma Shipyard complex, N-KOM offers a comprehensive range of repair, conversion, maintenance and fabrication services for marine vessels, offshore and onshore structures.
About Nakilat
Nakilat is a Qatari LNG transport company providing an essential transportation link in the State of Qatar's LNG supply chain. Its LNG shipping fleet is the largest in the world, comprising of 63 LNG vessels. Nakilat also manages and operates four large LPG carriers. Nakilat operates the ship repair and construction facilities at Erhama Bin Jaber Al Jalahma Shipyard in Ras Laffan Industrial City via two strategic joint ventures: N-KOM and NDSQ. Nakilat also offers a full range of marine support services to vessels operating in Qatari waters.
About Samos Steamship
Samos Steamship is a ship management company operating a mixed fleet of tankers and bulk carriers. Samos manages a fleet of 2 million tons of an average age of 7 years. With over 140 years of experience, Samos Steamship offers reliable sea transport, combining expertise, flexibility and innovation.
Source: Nakilat-Keppel Offshore Marine (N-KOM)