A US Navy guided missile destroyer arrived in Qingdao on Monday in the first visit by an American warship to the country since an international tribunal ruled China's expansive South China Sea claims had no basis in law.
Analysts said the port visit by the US warship was a good sign of the willingness of the two countries to keep channels of communication open despite deepening tensions over the South China Sea, but such goodwill would not change the two countries' fundamental opposition on the region's maritime disputes.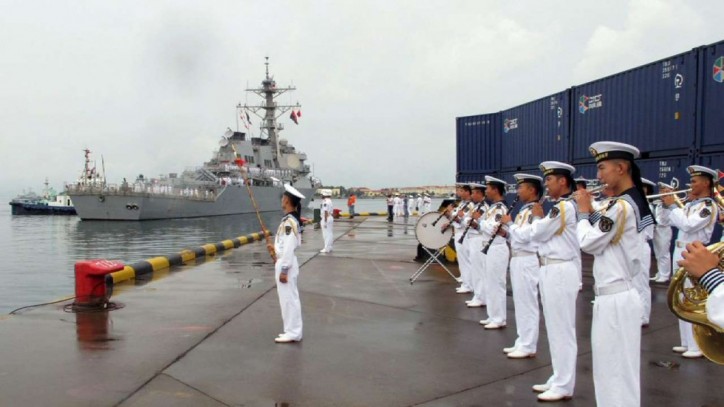 A Chinese military band plays as the guided missile destroyer USS Benfold arrives at Qingdao. Photo: AP
The USS Benfold held a signals exercise with the Chinese navy after arriving in the home port of China's North Sea Fleet. Commander Justin Harts said the visit aimed to "build relationships" with the Chinese navy. Harts referred questions on tensions in the South China Sea to the US Pacific Command in Hawaii.
China rejected last month's ruling at the Permanent Court of Arbitration in a case initiated by the Philippines and refused to take part in the tribunal set up in accordance with the UN Convention on the Law of the Sea. Beijing strongly criticised the US for encouraging Manila to take legal action and for calling on Beijing to respect the ruling.
Beijing has also strongly protested against the agreement between Washington and Seoul to deploy an advanced US missile defence system in South Korea, which China sees as a threat to its national security.
Ashley Townshend, a research fellow at the University of Sydney, said the USS Benfold's visit was "part of the ongoing interplay in military-to-military trust-building measures between the US and China" as they were committed to managing the risks of incidents at sea.
Townshend said China had adopted a different approach in dealing with tensions with the US military in recent years.
"It was common for China to cut military ties when there was some sort of shock in the relationship, such as arm sales to Taiwan or the US president meeting the Dalai Lama," he said.
But China now valued military interaction and communication with the US, including port calls and visits by senior naval officials to each others' countries, he said.
Ni Lexiong, a Shanghai-based naval expert, said the US warship's visit served as a buffer for the simmering tensions between the two countries.
"Despite the friction, it's in China's interest to continue cooperation with the US," he said.
Source: SCMP