Cargo and passenger handling up nearly 2% in First Half of 2016
The Port of Kiel is on course for growth after upping handling in both the cargo and passenger sectors by nearly 2% in the first half of 2016. The port's various quay and terminal facilities handled 3.1 million tons of incoming and outgoing cargo – an increase of 1.8% over the same period of last year - while in the passenger sector 886,000 people disembarked or boarded a ferry or a cruise ship in the port – a rise of 1.9%.
Dr Dirk Claus, Managing Director of the Port of Kiel (SEEHAFEN KIEL GmbH & Co KG) said: "This is a very good result, especially considering that the Port of Kiel recorded an above-average increase in its core business – ferry services to Scandinavia and into the Baltic".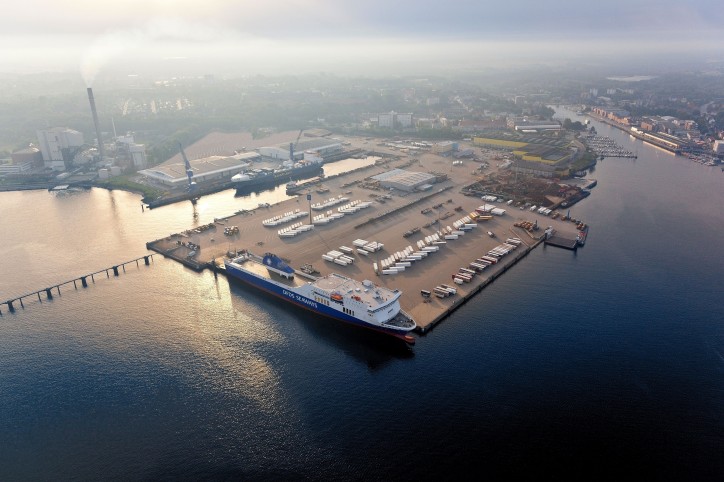 Kiel Ostuferhafen - Image courtesy: Port of Kiel
The strongest handling in the port in the first six months has been recorded in the Ostuferhafen, which additional will profit in the second half year from newly established liner shipping services from Sundsvall in Sweden. Since the start of July RoRo cargo ships of new port customer SCA and Iggesund Paperboard have been calling at Kiel once a week to land complete loads of paper and high-value cardboard packaging products. From October this liner service is being increased to twice a week.
The biggest volume increases in the first half year were recorded on the Kiel - Klaipeda ferry service as a result of the introduction of a seventh weekly departure by operators DFDS. Daily arrival time in Kiel is 1600 and departure from the Ostuferhafen is every evening at 2000. This optimised timetable has been made possible by two big fast RoPax ferries which need only 20 hours for the crossing.
"The time-table with ever-regular departure and arrival times is very well received by customers", said Dirk Claus. "Kiel - Klaipeda is the most important German ferry service into and out of the Baltic region and the only one offering daily departures", he added.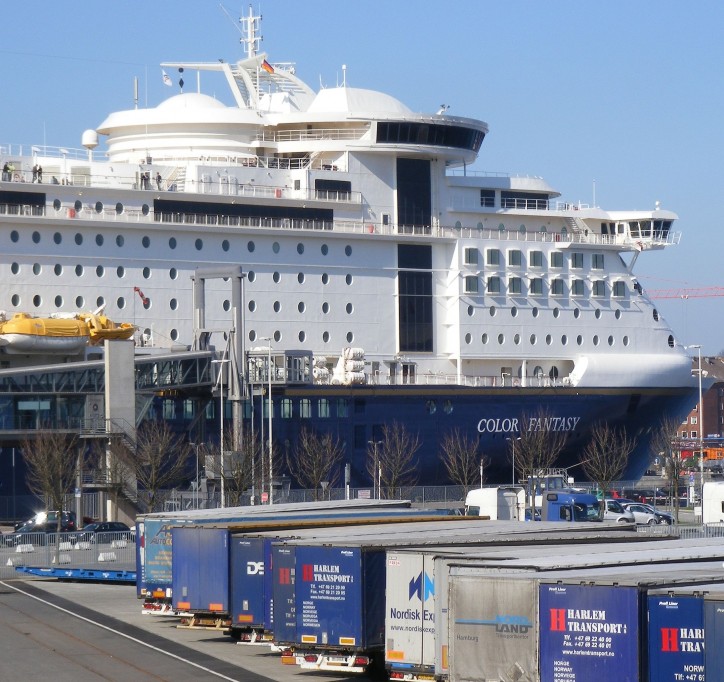 Passenger/Ro-Ro Cargo Ship Color Fantasy at Port of Kiel - Image courtesy: Port of Kiel
As a way of fully utilising capacity on additional Sunday departure services, the Port of Kiel welcomes the fact that trucks involved in hinterland sea port services can be exempted from Germany's Sunday truck driving ban. Customers of ferries to and from Scandinavia also benefit. By contrast, trade restrictions continue to burden ferry services between Kiel and Russian ports.
In the intermodal cargo sector, 14,600 consignments, mainly trailers and containers, were loaded onto rail in the first half of the year. That's an increase of 5.7%. In addition, rail waggon combinations and block trains carrying new vehicles, forestry products and coal were also recorded.
Dirk Claus said: "We are registering a constantly increasing demand for rail cargo transport services. By the end of the year we want to transfer a record 30,000 consignments onto rail waggons", he added.
In the bulk cargo handling sector the import of Norwegian gravel increased significantly. The firm of Mibau unloaded some 180,000 tons in the first six months of the year – about a third more than in the same period of last year. Kiel is playing a regional supply role within the state of Schleswig-Holstein. Building materials are being delivered in large quantities, and therefore at reasonable cost, via the port. However the import of coal for the local power station declined again in the first half of 2016: the plant is being replaced inside a few years by a gas-fired facility.
Source: Port of Kiel