For the third consecutive year, Matson, Inc. (NYSE: MATX) subsidiary Matson Navigation Company, a leading U.S. carrier in the Pacific, has been rated by shipping customers as the top ocean carrier in the world.
The Number One ranking was bestowed by Logistics Management magazine and Peerless Research Group (PRG), whose annual Quest for Quality Awards survey of qualified buyers of transportation and logistics services is considered the most important measure of customer satisfaction and performance excellence in the industry.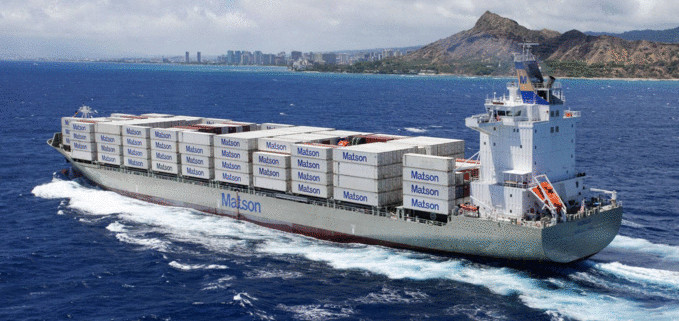 Image courtesy: Matson
The magazine's 33rd annual survey this year drew almost 5,000 participants who rated transportation companies in all modes and service disciplines against the five criteria most valued by shipping customers: On-time Performance, Value, Information Technology, Customer Service, and Equipment & Operations.
Of the 11 domestic and foreign companies in the Ocean Carriers category, "Matson lead the way in On-time Performance, Information Technology, Customer Service, and Equipment & Operations," according to Logistics Management.
"Matson's employees strive to move freight better than anyone. We appreciate our customers recognizing their efforts," said Matt Cox, president and chief executive officer.
Matson Logistics also earned another Quest for Quality Award this year, ranking second-highest and within one half point of the top spot in the Intermodal Marketing Companies category.
Matson Logistics subsidiary Span Alaska earned a Quest for Quality Award for its "world-class service" in the Regional LTL (less-than-truckload) Carriers category.
The 2016 Quest for Quality awards will be formally presented at a ceremony on September 27, during the Council of Supply Chain Management Professionals (CSCMP) Annual Conference in Orlando.
Source: Matson