SET-listed Precious Shipping Plc (PSL), Thailand's leading dry-bulk carrier, saw positive signs in the dry shipping market during the first half of this year, according to the company's managing director Khalid Hashim.
Mr Hashim said the positive indicators in the first half included increased imports from China.
Chinese imports of iron ore and coal in the first half climbed 9% and 8.2% respectively, he said.
"China has registered lower domestic production of coal and imported more higher quality coal into the country, which helped increase demand for shipping," said Mr Hashim.
He said falling crude oil prices had also helped benefit major oil consumers such as China and India, allowing them to import more crude oil in the first half.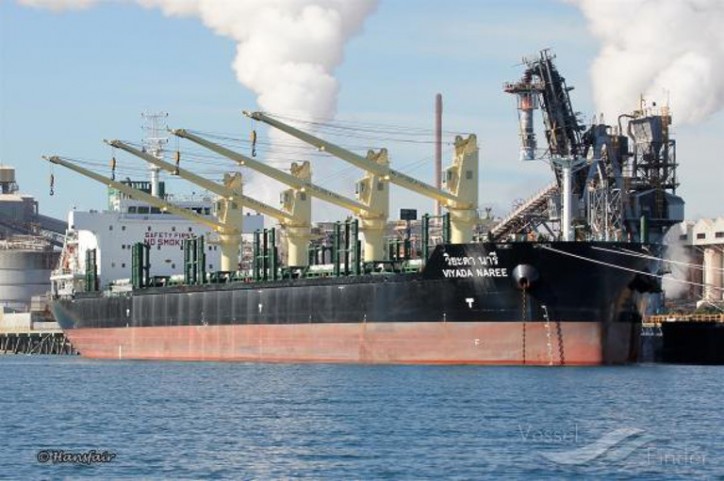 Bulk Carrier VIYADA NAREE - Image courtesy: Hans Fairhurst
He said China's "One Belt, One Road" policy will help increase demand for dry bulk shipping in the second half of this year, possibly helping outpace demand in the first half.
The One Belt, One Road initiative is intended to strengthen infrastructure both on the westward land route from China through Central Asia and on the southerly maritime routes from China through Southeast Asia and on to South Asia, Africa, and Europe.
Despite the positive signs, Mr Hashim warned there is still risk on the horizon if the number of excess vessels does not fall.
He said even though vessels have been scrapped heavily over the past few years, the market is still facing oversupply, keeping the Baltic Dry Index (BDI) relatively low, which reflects weak demand on shipping.
"BDI might decrease again if the scrapping rate in the second half of this year doesn't meet the rate of the first quarter," said Mr Hashim.
He said the scrapping rate in the first half stood at 23 million deadweight tonnage and is expected to remain low during the monsoon season in the third quarter and improve again in the final quarter.
The company currently operates 41 vessels, down from 46 vessels in 2015, said Mr Hashim.
He said the company will complete the renewal process for its vessels in 2017, after which Precious will have 38 vessels with an average age of 7.1 years. As of the end of June, the average age of its ships was 7.66 years.
In the second quarter of 2016, Precious Shipping posted a net loss of 475.44 million baht, compared with the 402.57 million baht loss it suffered during the same period in 2015.
For the first six months of this year, the company had a net loss of 1.68 billion baht, compared to a net loss of 738.3 million baht in the same period last year.
Source: Bangkok Post