At least 3,000 employees who worked for South Korea's three largest shipbuilders quit their jobs in the first half as the industry as a whole underwent extensive restructuring to cope with global oversupply and low demand amid a general economic slowdown, the companies said Sunday.
The country's three biggest shipyards -- Hyundai Heavy Industries Co, Samsung Heavy Industries Co. and Daewoo Shipbuilding & Marine Engineering Co. -- have been engaged in drastic restructuring programs led by their creditor banks in recent years after being hit hard by the 2008 financial crisis.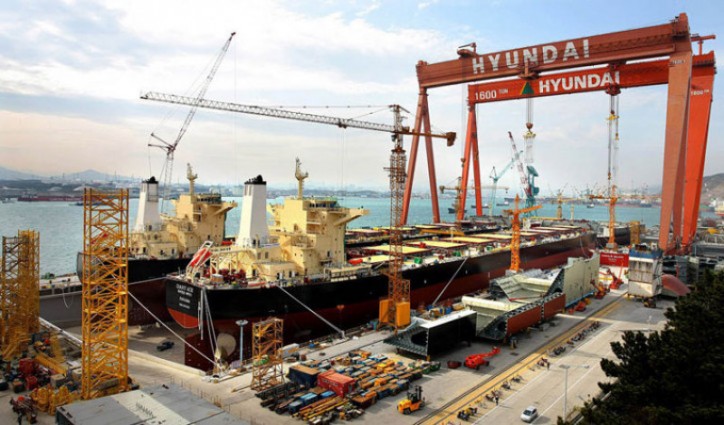 On top of the official data collected from the three shipbuilders, there are 2,000 more employees who left Hyundai Heavy during the first half under the so-called voluntary retirement program. Under this program, companies usually offer a higher-than-usual severance pay, as well as compensation equaling years of their annual salary.
If the job cuts at Hyundai Heavy are taken into account, about 5,000 regular and nonregular workers retired or were forced to quit their jobs in the Big 3 shipyards in the first six months, according to industry sources.
Under their separate self-rescue plans submitted to their creditors, the three shipbuilders said they will reduce their combined workforce by 6,000 this year.
"As the business environment is getting worse (in the shipbuilding industry) and more workers are expected to apply for the voluntary retirement programs later this year, the number of workers leaving the shipbuilders will be bigger (than the present 6,000) at the end of this year," an industry official said.
In the January-June period, Hyundai Heavy swung to a net profit of 636.8 billion won (US$577 million) from a net loss of 367.6 billion won a year earlier. Samsung Heavy's net losses narrowed to 196.50 billion won from 1.144 trillion won during the same period, according to regulatory filings.
Hyundai's rebound from a net loss and Samsung's narrowed losses were helped by the selling off of noncore assets and the reduction in jobs.
Daewoo Shipbuilding is under investigation due to accounting fraud worth over 5 trillion won in which the company's former executives were involved. It shifted to a net profit of 31.4 billion won in the first quarter from a huge net loss of 3.307 trillion won a quarter earlier. First-half figures were not available from the regulatory filing system.
Source: Yonhap