The Transocean Winner semi-submersible that ran aground in bad weather on the Isle of Lewis nearly two weeks ago has been successfully refloated and stabilized, and is now under tow to safer waters.
The rig was refloated from Dalmore Bay at 10 pm LT, on Monday, Aug. 22, and was under tow by its support vessels at about 1-1.5 knots per hour to Broad Bay, some 40 miles away.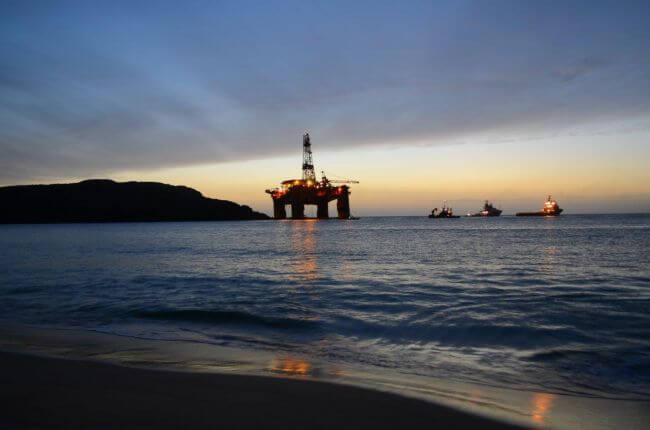 The refloated Transocean Winner drilling rig in Dalmore Bay. - Photo courtesy UK Maritime & Coastguard Agency
Yesterday morning, the UK's Maritime & Coastguard Agency flew its Counter Pollution verification aircraft over Dalmore Bay to examine the water for any sign of discharge, sheen or pollution from the rig. There was no pollution reported in the Dalmore Bay area.
The verification aircraft continued to follow the path of the rig and has detected a slight sheen, which is associated with the ongoing pressurization of tanks to maintain the rig's stability. Briggs Environmental is accompanying the tow and is assisting by breaking up the light sheen. Additional counter pollution equipment is on board the vessels at immediate readiness should it be required.
The Temporary Exclusion Zone remains in place at Dalmore Bay, until the seabed has been thoroughly checked for any debris or environmental impact.
A Temporary Exclusion Zone of 1,000 m has also been established in Broad Bay.
Related news:
Update: Salvors to assess grounded Transocean drilling rig
17,000-tonne Drilling rig blown ashore in storms off Western Isles (Video)
Source: WorldOil