Another Singaporean boat captain, along with his crew and passengers, have been detained for allegedly trespassing in Indonesian waters.
Captain Ricky Tan Poh Hui was piloting the Malaysia-flagged vessel, the Seven Seas Conqueress, in waters near Bintan on Sunday, when he was stopped by the Indonesian Navy.
According to the navy, the boat was intercepted about 7.5 nautical miles from the coast of Tanjung Berakit in Bintan. The local authorities said it is owned by Singapore-based Odyssey Marine and did not have permission to enter Indonesian waters.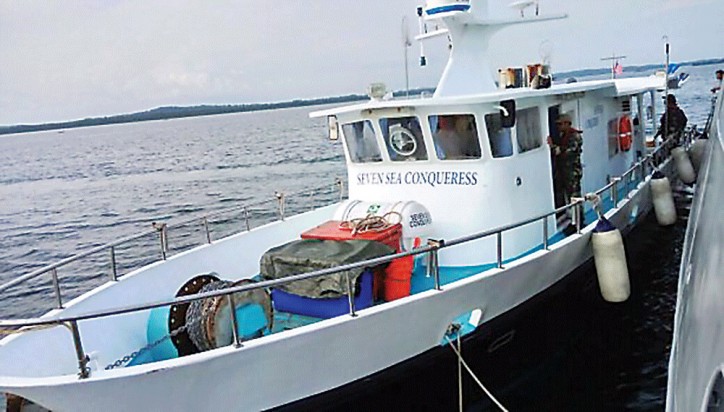 The captain, his three-member crew and nine passengers, mainly recreational anglers from Singapore, are being held for investigations in a naval base in Tanjung Pinang. Mr Tan was the only one identified by the authorities.
Base commander First Admiral S. Irawan said to a local news media on Monday that a navy vessel had spotted the Seven Seas Conqueress while on patrol.
"There was evidence of illegal fishing, such as fishing rods and fresh fish," he said. "That shows they were fishing illegally in Indonesian waters."
He added that the Seven Seas Conqueress had port clearance from Singapore, which was issued on Friday last week, and a registration certificate from Langkawi in Malaysia.
When contacted, a representative from Odyssey Marine, which was listed online as Dynamic Systems Technologies, declined to comment on the incident.
Singapore's Ministry of Foreign Affairs said it has contacted most of the next-of-kin of the detained Singaporeans, and it will continue to reach out to the others.
The Republic's consulate in Batam is also in touch with the Indonesian authorities to provide assistance to the Singaporeans.
Indonesia has increased sea patrols against illegal, unreported and unregulated fishing after President Joko Widodo announced plans to beef up the country's fisheries sector in recent years.
The latest arrest comes after the acquittal of Singaporean boat captain Shoo Chiau Huat for a similar offence in Bintan recently.
Mr Shoo, 50, was ferrying seven Singaporeans and six Malaysians on board the MV Selin when it was detained by the navy near Tanjung Berakit on April 16.
His passengers were deported but Mr Shoo remains in the custody of Indonesian authorities. He was charged with immigration offences after he was acquitted last month of fishing illegally in the country's waters.
Mr Shoo's lawyer Herman Black Monday said a pre-trial motion has been filed and the case will be heard next week on Aug 29.
"I have come to the immigration office and asked for documentation relating to Mr Shoo's detention and they have not given me anything," said Mr Herman. "So, there is no clear basis for his arrest and detention," he added.
Source: Straits Times