On Friday the 14th of October, 11.00 hrs, Ferus Smit's Nb. 433 will be launched in Leer, Germany.
Nb. 433 will be christened as 'Symphony Performer'. She is the first in a series of two vessels that will be delivered to Symphony Shipping and is equipped with a DP2 (Dynamic Positioning) system which keeps the vessel within specified positions and heading limits.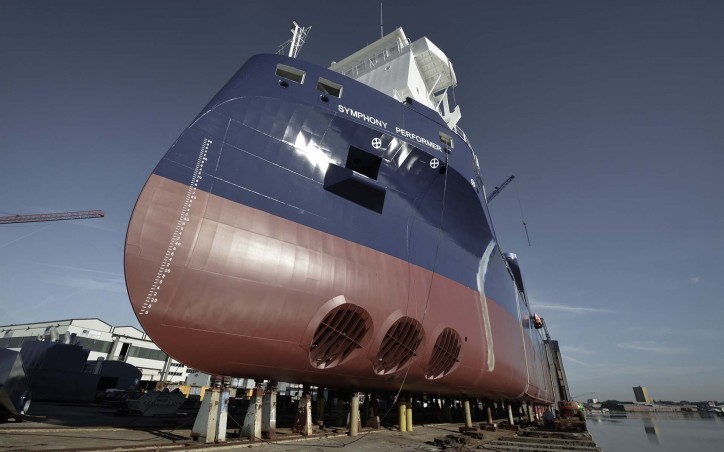 Symphony Performer at Ferus Smit shipyard in Leer, Germany - Image courtesy: Ferus Smit
The main design features:
– Main dimensions (Loa X B X T) 122.5 X 17.0 X 7.8 mtr.
– 10500 DWT, 429.000 cft hold volume.
– Ice-class 1A with 3000 kW main engine.
– A large single hold of completely box shaped form.
– Large loading floor area for project cargoes, including complete movable tweendeck.
– 2 X 85 tons cargo cranes.
– Deckhouse placed on foreship for better protection of deck cargo and enabling to load oversized items over the stern.
– Open top notation; sailing in all weather conditions without maindeck hatches to transport large project cargoes without height restrictions.
– The Ferus Smit ECO bulbless Canoe type bow, designed to reduce fuel costs and better sustained speed with excellent sea keeping behavior in harsh weather and sea state conditions.
– Propeller equipped with a duct for enhanced thrust at lower speeds and reduction of maximum installed propulsion power.
Source: Ferus Smit