A fire sale of troubled Hanjin Shipping Co.'s fleet has begun with the sale of three of the bulk carriers that it has been chartering, giving the clearest sign yet since Hanjin filed for bankruptcy protection last month that the South Korean government has no plans to bail out the shipping company.
Brokers said Japanese owner Kumiai Senpaku is selling the Hanjin Matsuyama, a capesize dry bulk carrier capable of moving around 160,000 tons of cargo, to a Chinese buyer for $23 million as the result of Hanjin's failure to make charter payments since early summer. The ship was on a long-term charter for around $29,000 a day.
Kumiai Senpaku couldn't be reached for comment.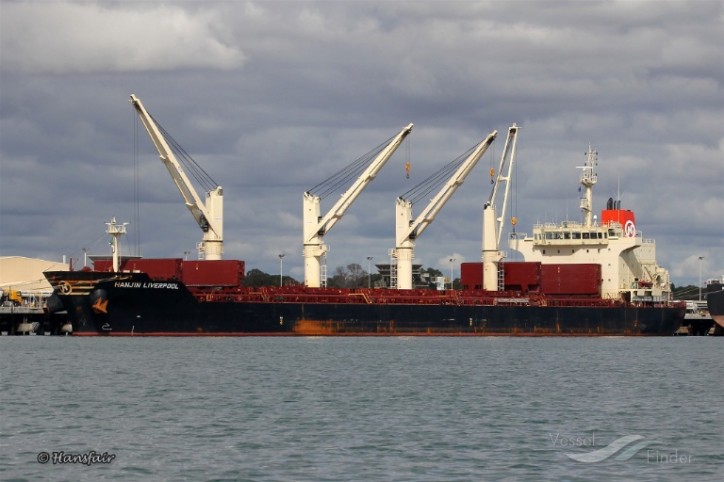 Bulk Carrier Hanjin Liverpool - Image courtesy: Hans Fairhurst
Two other smaller bulkers, vessels that are used to ship commodities like iron ore and coal, the Hanjin Liverpool and Hanjin Isabel, were snapped up by two separate Greek owners in the past few days for around $8 million a piece from a South Korean fund. That sale has taken place one year before the expiration of their five-year leases to Hanjin.
With Hanjin looking increasingly like it will go under, "the charterers can either go back to the spot market and charter their ships at a significant discount, or if they are lucky find another time charter, which is unlikely," said Marcus Baker, chairman of global marine practice at London-based Marsh Ltd., the world's biggest insurance broker.
More than two thirds of Hanjin's fleet of 149 container and dry bulk carriers are chartered. Hanjin's main charterers, including Danaos Corp., Navios Maritime Partners LP and Seaspan Corp. that have a combined exposure of more than $1 billion to Hanjin, were hoping for a last minute intervention by the South Korean government to keep the debt-ridden operator from going under.
But such hopes were dashed Tuesday when the Korean government gave its strongest indication yet that it wouldn't pump more money into Hanjin.
"Lazy thinking that the government will have no choice but to help shipping companies if they run into problems has ended up hurting trading companies," president of South Korea, Park Geun-hye, told a cabinet meeting in South Korea on Tuesday.

"We will not sit silently by as corporate managements, who do not aggressively try to recover their businesses, wait for the government to solve everything," she said in the meeting.
Analysts expect a number of the 37 container vessels that Hanjin owns to start going on sale in coming weeks. Hanjin is primarily a container shipping operator.
"I can't imagine Hanjin coming out of bankruptcy protection as a global carrier," said Lars Jensen of Copenhagen-based SeaIntelligence Consulting. "It will either be liquidated or emerge as a much smaller carrier with regional trades in Asia."
Shipping executives said damages to charterers who have leased their ships to Hanjin could run into the hundreds of millions of dollars.
"Daily spot prices today are up to 70% lower than long-term charters signed with Hanjin three to four years ago," said Basil Karatzas, of New York-based Karatzas Marine Advisors & Co. "Some of the charterers with small ships got the financing to build them through lease contracts specifically linked to Hanjin. They will have little choice but to sell them."
Danaos has said it has a $560 million exposure to Hanjin. Its chief operating officer, Iraklis Prokopakis, said he expects the Seoul court handling Hanjin's receivership to rule later this month on the company's charters, but admitted any new charter arrangement with Hanjin or more likely with another carrier "will be at a lower rate."
Hanjin, the world's seventh biggest container operator, moves 3% of all containers globally and up to 10% of the ones shipped between Asia and Europe. But 61 of its 98 container ships are chartered, not owned.
Mr. Baker said that despite court rulings for protection against creditors in some countries including the U.S. and Korea, a large number of both chartered and owned Hanjin vessels are avoiding ports world-wide on fears they will be seized .
"For cargo owners it's a waiting game as 80-plus Hanjin ships are still out at sea," Mr. Baker said. "For some owners it will just be a long delay, but for others, whose cargo is perishable like food, damages may be significant."
Cho Yang-ho, the chairman of Hanjin Group—Hanjin Shipping's parent—gave 40 billion won ($36 million) on Tuesday to help unload cargo from ships. Another $9 million also came in from former Hanjin Shipping chairwoman Choi Eun-young.
But people involved in the matter said it would take a minimum $150 million to get all the stranded goods off Hanjin's ships which are estimated to be worth around $14 billion.
Source: WSJ