Thursday (September 15, 2016), at its facilities in Figueras, Gondan Shipyard laid the keel of one of its latest projects: An innovative Service Operation Vessel (SOV) that will function as a mother ship for wind turbine technicians, as they perform maintenance work at DONG's Race Bank offshore wind farm on the North Sea. The keel laying ceremony, highly symbolic, marks the start of the assembly of the hull in the slipway, where the vessel will remain until her launching next year.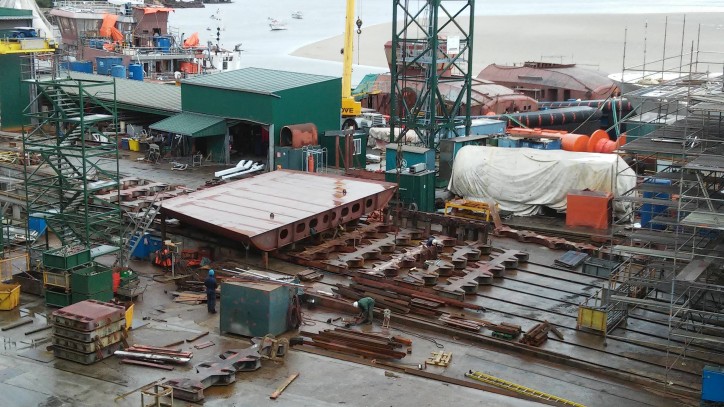 Keel laying of Østensjø Rederi's service operation vessel at Gondan Shipyard - Image courtesy: Gondan
This 81,10 m long and 17,0 m beam vessel is the first of the two SOVs that Gondan will deliver to the Norwegian shipowner Østensjø Rederi, both ships being built according the same UT 540 WP design by Rolls Royce Marine.
The vessel will be equipped with an UPTIME 23 m length heave compensated "walk-to-work" gangway, a cutting edge technology 3D compensated crane and a CTV landing system with bunkering facility. In addition to the gangway, the on-board-fitted 11 m daughter craft will allow the safe transfer of maintenance technicians to the wind farm installations.
Finally it is worth noting that the design will commit to lower emissions and fuel saving targets by incorporating Rolls Royce Marine SAVe Cube system, based on variable rpm operation of the generator sets.
Source: Gondan