Reinforcing its reputation as one of the world's most trusted shipping and logistics companies, Bahri, a global leader in logistics and transportation, has announced the enrollment of its vessels in the United States Coast Guard's QUALSHIP 21 program, a highly prestigious recognition given only to vessels that meet the most stringent quality and safety standards.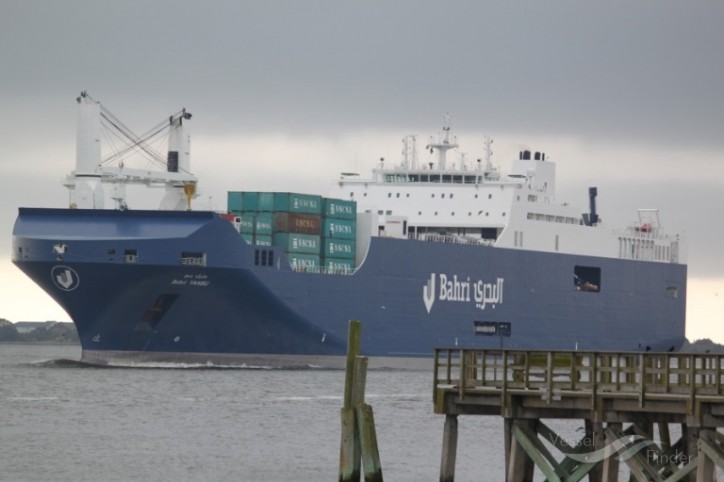 Ro-Ro cargo ship Bahri Yanbu - Image courtesy: Dan Mathison
Bahri joins an elite group of operators – less than 10% of the ships that call at US ports meet QUALSHIP 21 eligibility requirements – to have achieved the coveted certification, which aims to identify and acknowledge high-quality foreign-flagged vessels operating in the United States and provide incentives to encourage quality operations.
Valid for three years, the QUALSHIP 21 enrollment provides Bahri with a number of benefits including limited oversight when calling at US ports – translating to less delays and faster clearance and delivery of goods for clients – as well as enhanced market credibility from being an approved operator.
"We are proud that a sizeable number of vessels from our North American fleet have been recognized as adhering to one of the industry's most exacting quality standards. The Bahri brand name has become synonymous with quality, reliability and safety within the global shipping industry, and being awarded QUALSHIP 21 status adds a further layer of trust for our clients, who can be assured of stringent cargo security and total peace of mind when shipping with Bahri," said Ibrahim Al Omar, CEO of Bahri, adding that the recognition is a testament to the dedication and quality-consciousness of the company's technical managers.

He continued, "Most of the privileges the QUALSHIP certification confers on Bahri – such as being subject to fewer and less stringent controls at US ports and reduced likelihood of unannounced inspections – directly benefit our customers, who can look forward to receiving their cargo safe and early. This provides us with a terrific competitive edge, and will help strengthen our position as a preferred shipping partner as customers weighing between two identical carriers will naturally opt for the one that has an international seal of approval."
Source: Bahri