The French Navy's newest Frégate européenne multi-mission (FREMM) frigate, Bretagne, has been floated out from the DCNS shipyard in Lorient, France.
Bretagne represents the seventh frigate in the FREMM programme and the fifth of the series ordered by OCCAR on behalf of the French defence procurement agency (DGA), for the French Navy.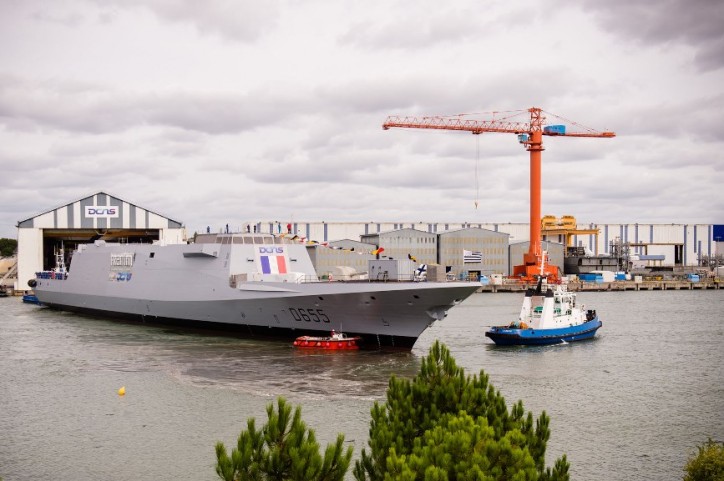 French Navy's FREMM frigate Bretagne floats out from DCNS facility. Photo: courtesy of DCNS
FREMM is a joint programme between France and Italy, which aims to build 21 frigates for their navies.
The float out of Bretagne follows the delivery of the third FREMM, Languedoc, to the French Navy in March this year. The first two vessels, Aquitaine and Provence, were delivered in 2012 and 2015 respectively.
The navy's fourth frigate, Auvergne, was launched last year from the DCNS facility, and is scheduled to start sea trials at the end of this month.
Assembly of the sixth French frigate, Normandie, is scheduled to start soon. All the six vessels are expected to be delivered by 2019.
The French Navy is also set to receive two more frigates with an enhanced anti-air capability, which will be delivered before the end of 2022.
With a displacement capacity of 6,000t, the 142m-long and 20m-wide Bretagne can operate at a speed of 27k, with a range of 6,000nm at 15k.
The frigate will be equipped with effective weapon systems and hardware, such as the Herakles multifunctional radar, the naval cruise missile, the Aster and Exocet MM 40 missiles, and the MU 90 torpedoes.
It has an accommodation capacity for 145 persons, and can operate with a crew of 108, including the helicopter detachment.
Source: Naval Technology