Irish Sea freight ferry specialist Seatruck, part of Clipper Group, adds capacity onto its busy Heysham-Dublin daily service. The 105-trailer ro-ro ferry Clipper Point will replace the smaller Clipper Ranger, adding annual capacity of over 25,000 extra spaces. The vessel switch will take place during next week and comes just a few weeks ahead of the opening of the M6 Link Road on October 31.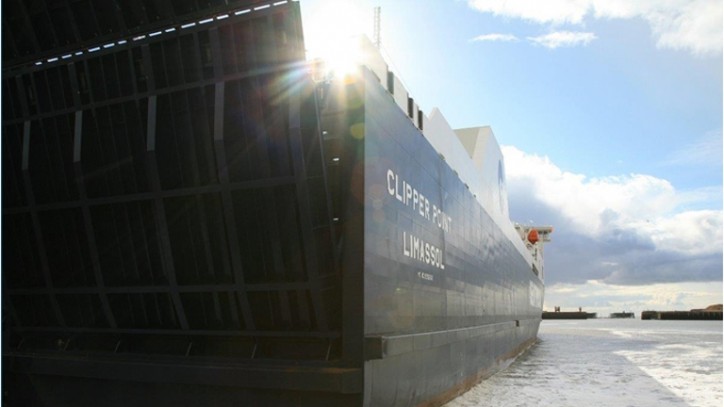 As well as bringing speed, schedule reliability and additional capacity, the change confirms Seatruck's long term commitment and strategic importance to the route. Other benefits from having the large P series vessel include greater trailer free height and faster turnaround time. The purpose built Clipper Point is no stranger to Heysham or the Irish Sea, but in recent times has been on charter to other ferry operators throughout Europe.
Clipper Ranger will move to the Liverpool-Dublin route, enhancing the busy midweek period now with 4 departures each way per day. This is Seatruck's fastest growing freight service on the Irish Sea and the extra vessel will further improve this key connection. During this year, Seatruck's freight volumes have grown at roughly three times the market level.
CEO of Heysham based Seatruck Ferries Alistair Eagles comments: "We have been planning for the opening of the M6 Link road for some time and it is no coincidence that we have chosen to upgrade our service offering from Heysham now. On the Liverpool-Dublin route, 4 daily sailings each way will offer an unrivalled freight-only frequency and an even stronger alternative for the traditional driver accompanied transit through Wales or Scotland. We have a firm belief in our business model, a strong team and the right infrastructure in place to take these next steps."
Seatruck Ferries specializes in the shipment of unaccompanied freight trailers which is more efficient for the operators and makes better use of their drivers which continue to be in short supply. Seatruck currently operates 3 routes on the Irish Sea offering daily connections. A new weekly service linking Dublin with Bristol also commenced recently.
Source: Clipper