UAE condemns militant attack on aid vessel as a flagrant defiance of international norms
The Ministry of Foreign Affairs and International Cooperation said the targeting of an Emirati civilian vessel carrying aid by Al Houthi militias was a flagrant defiance of international norms and conventions and a threat to the freedom of navigation in Bab Al Mandab.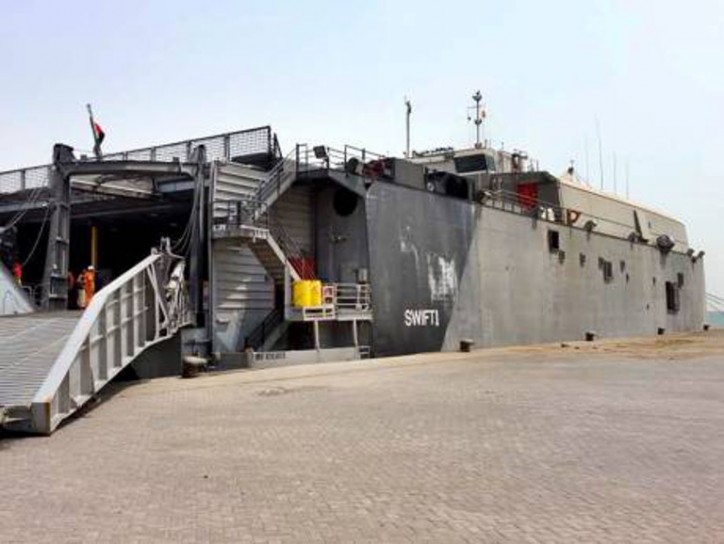 The 'Swift' vessel, attacked by the Al Houthis - Image courtesy: WAM
"It is a terrorist act that is supported by regional parties that do not want peace and security to prevail in the region," the ministry said in a statement.

"The civilian ship Swift, owned by the UAE's National Marine Dredging Company, has transported tonnes of humanitarian aid and thousands of food baskets over the past months.

"The targeting of a civilian vessel in international waterways will have dangerous implications and grave consequences on the freedom of international marine navigation.

"It is a terrorist act that reflects the magnitude of support Al Houthis receive from regional powers, which do not peace and block all ways to reach a political solution in Yemen."
The aid ship, which was attacked off Al Makha by the Al Houthis on Saturday, is not a military ship and did not carry military equipment.
It evacuated more than 1,000 injured Yemenis for treatment abroad.
It has also shipped electrical equipment and power generators to rehabilitate the infrastructure in liberated areas and ease the suffering of children in Eden and other liberated provinces.
The civilian crew of Swift is composed of 24 members from six countries, namely India, Ukraine, Lithuania, the Philippines, Egypt and Jordan, and most of the crew-members are now receiving treatment in the UAE due to the injuries they sustained during the attack.
The ministry said that efforts by the UN envoy and the international community to resume peace negotiations in Yemen are belittled by the Al Houthis' flagrant violation of all international laws.
"This is a serious indication to confirm the intention of Al Houthi militias to carry out terrorist attacks targeting international navigation and relief ships in the Bab Al Mandab Strait," the statement added.
According to the statement, the ship was on a routine trip to the city of Aden to deliver medical and relief aid and evacuate wounded and injured civilians.
On Saturday, the Command of Coalition Forces Supporting Legitimacy in Yemen called the targeting of the ship a "dangerous indication."
The Command announced that it embarked on a rescue operation on Saturday at dawn of the civilian passengers.
Related news: Houthi-Rebels claim responsibility for attack on UAE warship transporting 'medical aid' to Yemen (Video)
Source: GulfNews