Skangas, a subsidiary of Gasum, has bunkered a ship for the first time directly from the liquefied natural gas (LNG) terminal in Pori. The product tanker Ternsund was successfully bunkered with LNG in a quick and safe operation.
The Skangas LNG terminal in Finland is strategically well positioned for ship bunkering and designed for multipurpose use from the beginning. It supplies LNG to a gas connection pipeline and offers truck loading as well as terminal-to-ship bunkering operations.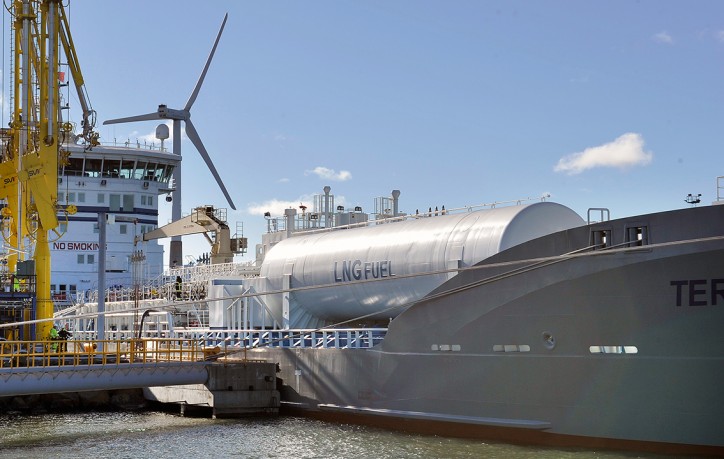 This is the only place in the Gulf of Bothnia where ships can bunker directly from a terminal. The introduction of bunkering at the Pori terminal marks the start of a new era of marine bunkering in Finland. In addition, truck-to-ship bunkering is increasing throughout the country, which will further help shipowners reach their environmental goals.
"The Skangas terminal in Pori was officially opened three weeks ago. This marks a milestone in our development of the Finnish market. Now we do yet another first when making the first bunkering directly from the terminal," says Tor Morten Osmundsen, CEO at Skangas, and continues, "I'm very proud to be able to offer customers like NEOT a bunkering service directly at the terminal."
Ternsund is the first of four new LNG-fueled vessels owned by the shipowner Terntank and operated by the Finnish company North European Oil Trade (NEOT).
"We're very satisfied that we now have the opportunity to bunker LNG in Finland right beside one of our terminals," says Satu Mattila, Chartering Manager at NEOT. "We will run Ternsund both along the Finnish and the Norwegian coast as well as in the Gothenburg area. It's advantageous for us that our LNG supplier can offer bunkering at several locations where we trade. This fits well with our trading pattern for the vessels Ternsund and Tern Sea."
LNG is the most environmentally friendly shipping fuel and meets the requirements set by the Sulphur Directive for shipping as well as the stricter future limits set for emissions such as NOx, particulates and CO2.
Source: Skangas