Contract signed on 22th May, aims to transport LNG between Tongyeong-Jeju starting in 2019
Dominating LNGC newbuildings with KC-1, made-in-Korea cargo containment system, also expands to LNG-bunkering vessel market
Orders in 2017 total 2.3 billion USD comprising 3 LNGCs, 8 tankers, and a FPU.
8 tankers and 2 LNGCs just for this month
Samsung Heavy Industries Co., Ltd. (SHI) revealed on 22th May that they signed on the day a contract to build two small-scale LNGCs at a total of about 100 million USD.
The LNG carriers are built for KOGAS to transport LNG from Tongyeong, Gyeongsangnam-do, to Jeju Island.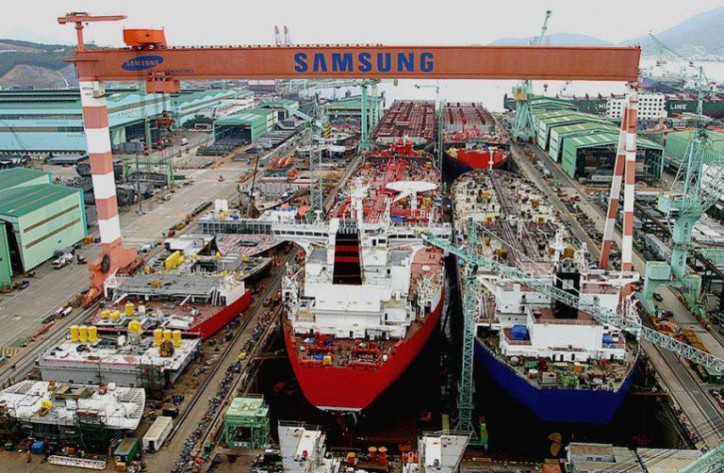 The 7,500㎥ LNG vessels would be equipped with KC-1 cargo containment system designed in Korea. One of the two carriers would be built with LNG bunkering capability. The delivery dates are May and December of 2019.
The contract is a significant milestone for SHI, developing a leading track record in KC-1 LNG carriers, as well as expanding into small-scale LNGCs and LNG-bunkering vessels.
Korean Cargo containment system is solely developed by Korean technologies by KOGAS with cooperation between the Korean Big 3s.
SHI had won an order to build the first-ever pair of KC-1 174,000㎥ LNGCs in 2015. The newly signed contract further solidifies SHI's leading track record in the LNGC market.
The contract also signifies SHI's entering into promising small-scale LNGCs and LNG-bunkering markets.
The increase in LNG demand in China and Southeast Asia is expected to call for demand for near-sea transport utilizing small-scale LNGCs.
According to the Clarksons Research, small-scales LNGCs under 40,000㎥ had a annual contracting of only two between 2006 and 2016, but the orders are expected to boost to 70 vessels for the next 10 years.
0.1% SOx regulation starting in 2020 would also increase demand for LNG-fueled vessels, which naturally leads to newbuild demand for LNG bunkering vessels.
SHI has won a total of 2.3 billion USD dollar worth orders for 2017, including 8 tankers, 2 LNGCs, 1 LNG-FSRU, and 1 Floatin Production Unit(FPU).
Source: SHI