Skangas has entered into an agreement with Statoil for delivery of liquefied natural gas (LNG) fuel for their platform supply vessels (PSV). The LNG will be delivered to several bases along the Norwegian west coast by ship.
Skangas will in addition deliver LNG to Statoil's tugs at Karsto. The agreement is valid from 1 April 2017 until the end of 2020 with an option for two plus two years. The supply bases are located at Mongstad, Florø (Saga Fjordbase) and Kristiansund (Vestbase). The agreement between Statoil and Skangas was a result of a comprehensive tendering process involving several LNG suppliers in the Norwegian market.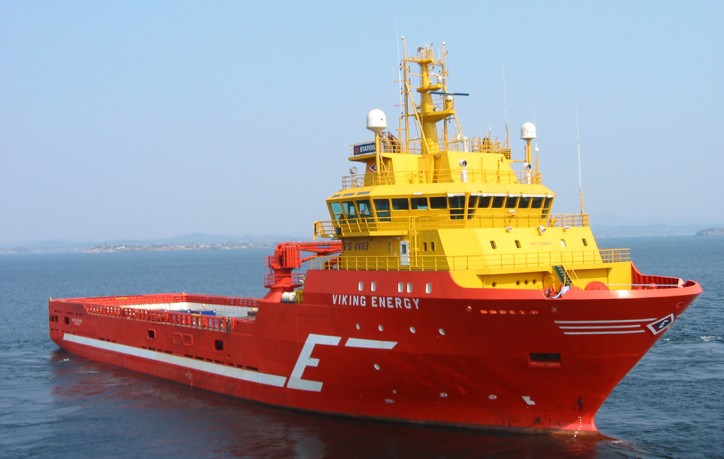 Viking Energy running on LNG - Photo Eidesvik
"We see this agreement as a recognition of our daily work and a confirmation of a good relationship with Statoil", says Tor Morten Osmundsen, CEO of Skangas. "It is important to have customers that emphasize the necessity of more sustainable operations enabling the use of a more environmentally friendly energy. We are depending on front runners to develop the market for LNG and further for liquefied biogas (LBG)".
BUILDING SHIP FOR THE FUTURE
The LNG will be delivered from the LNG plant in Risavika to the supply bases along the Norwegian coast by Skangas' new LNG feeder and bunker ship Coralius. The design of the 5800 m3 Coralius has been optimized for safe and reliable bunkering operations and is expected to be available Spring 2017. Supplying LNG by ship is supporting the Norwegian initiative to move transportation of goods from the roads to the sea.
LNG is the most environmentally friendly shipping fuel and meets the requirements set by the Sulphur Directive for shipping as well as the stricter future limits set for emissions such as NOx, particulates and CO2. Consequently, by using LNG for supply vessels Skangas' customer is experiencing considerably less emission than when using other fossil fuels. Skangas is helping their customer to reach their goals of being the most carbon effective company.
Source: Skangas