Argentina's state-controlled YPF has launched negotiations with local conglomerate Corporacion America to build a third LNG receiving terminal south of Buenos Aires.
The preliminary negotiations, which were confirmed to Argus by two industry officials, center around building regasification facilities on the La Plata River, close to existing port infrastructure in the Dock Sud district of Buenos Aires province.
Dock Sud is an industrial hub that encompasses an oil refinery and petrochemical activities.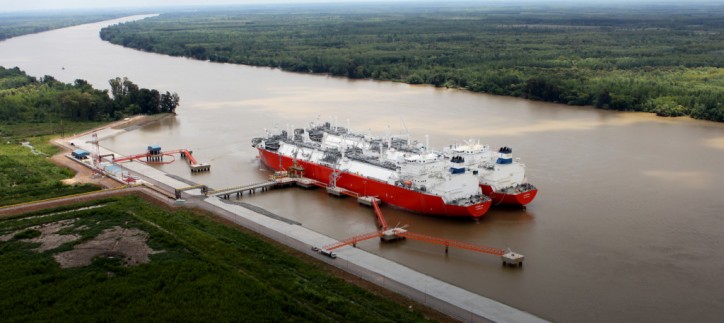 LNG Receiveing terminal GNL Escobar - Image courtesy: ExcelerateEnergy
"There are already some facilities there that could be easily adapted," an industry official explained.
YPF and Corporacion America declined to comment.
Argentina currently has two LNG receiving terminals, at Bahia Blanca and Escobar, also in Buenos Aires province, which were built after the country shifted from gas exporter to importer status in the late 2000s.
YPF carries out the country's LNG purchases on behalf of state-owned Enarsa.
The negotiations suggest that LNG is seen as a strategic alternative despite Argentina's extensive shale gas resources that are just starting to be developed.
Increasing the LNG import capacity would help Argentina to further cut back on diesel imports that it buys at the height of winter to operate thermal plants when gas demand soars.
A third terminal could also mitigate the challenges at the existing Escobar terminal. Deliveries to Escobar are generally more expensive because of logistical challenges associated with its location on a narrow Parana River channel that is only suitable for small or partial cargoes.
Beyond logistical difficulties, the LNG activities in Escobar have long faced opposition from local residents. Such challenges are virtually non-existent in Bahia Blanca, the country's petrochemical hub, and would also be unlikely in the industrial hub of Dock Sud.
Argentina satisfies its gas demand through a combination of domestic production, LNG and pipeline gas from Bolivia. This past winter YPF complemented supply with imported regasified LNG from neighboring Chile under short-term contracts to meet peak demand.
Source: Argus