The container ship OOCL Charleston arrived in Hong Kong on Saturday carrying mining waste
A shipping company has heeded demands to return 123 containers of hazardous mining waste to Romania – its port of origin – as Hong Kong environmental authorities continue testing the toxicity of the cargo.
The Environmental Protection Department (EPD) on Wednesday said it had received notice from the carrier on Tuesday that it would return the suspected toxic waste to the Romanian port of Constanza – but a sailing schedule had yet to be confirmed.
"The EPD is actively following up requirements for the shipping company to determine a specific time frame as soon as possible," a spokeswoman said. "The containers cannot leave the relevant cargo terminal before its return to its exporting destination."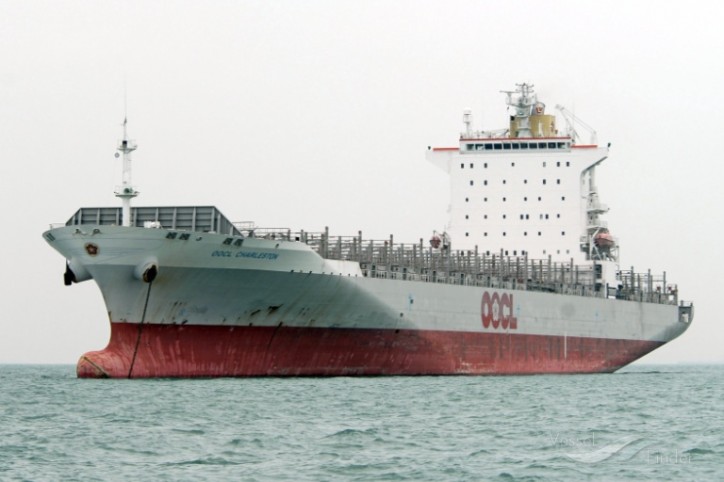 Container ship OOCL Chaleston - Image courtesy: mgklingsick
The two batches of containers ended up back at the Kwai Chung cargo terminal after Malaysian authorities, with the help of tip-offs, foiled attempts to unload eight of the containers of suspected toxic waste cargo at Port Klang last month. The cargo vessel OOCL Charleston arrived back in Hong Kong, its last port of call, on Saturday.
According to an investigation by Malaysian newspaper Oriental Daily and Hong Kong media outlet HK01, the ship left Romania with the 2,723 tonnes of suspected toxic waste in December last year, and attempted to offload the cargo for dumping at various Asian ports only to fail repeatedly over the year. This included attempts in Shanghai and Xiamen.
It is understood mainland authorities did not notify Hong Kong of the incoming shipment of hazardous waste, as required under an agreement on waste transfer controls.
The cargo – labelled as "copper matte" – is believed to contain hazardous substances including arsenic and cadmium.
The EPD said the Government Laboratory had been conducting tests on samples of the cargo and that initial results indicated that the main composition of the substances was formed of lead, copper, zinc and iron, which matched those of copper matte.
Further tests would be conducted to examine the content of toxic substances such as arsenic and cadmium, the department spokesman said and would be announced shortly, the department said.
The carrier responsible for the latest shipment, OOCL, said it was working closely with the department to resolve the matter but did not provide a timeline.
"This would include, for example, providing assistance and information to EPD to fully understand how this cargo, declared as 'copper matte' and suspected as potentially hazardous waste, may have come to be imported into Hong Kong by the original carrier (not OOCL) and the related parties involved," a spokesman said.
Source: SCMP