On 13 November 2016 nuclear-powered icebreaker Sibir was towed to ship repair yard Nerpa in the Murmansk Region for scrapping. According to FSUE Atomflot, the Sibir is the first nuclear-powered icebreaker to undergo scrapping.
To ensure safe floating and towing the unmanned ship underwent comprehensive engineering and radiation research as well as dock repairs.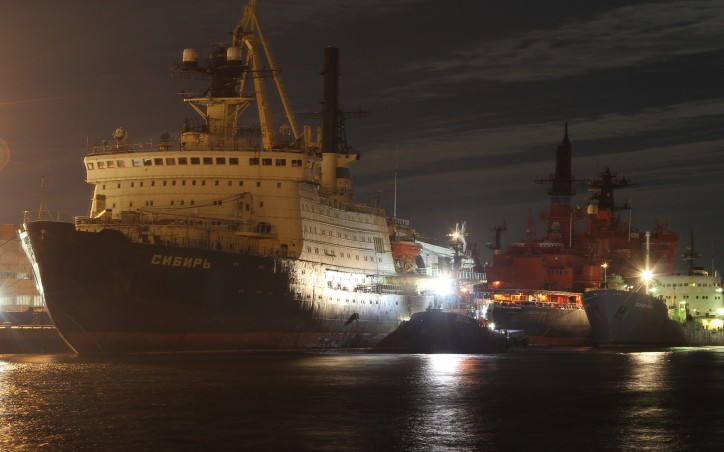 Icebreaker Sibir - Image courtesy of Rosatomflot
The Sibir will serve as an example to show that it is possible to scrape nuclear-powered icebreakers without enormous time or money investments, said Mustafa Kashka, Deputy Director General and Chief Engineer at FSUE Atomflot. According to him, the ship was initially planned to undergo complete scrapping but with the initiative of Atomflot the project was changed, hence the reduction of costs from RUB 1.7 bln to RUB 700 mln.
Nerpa personnel will take out the nuclear power plant and place it into preliminary prepared package for further delivery to the place of long-term storage in Saida Bay, The hull and a superstructure will be scrapped.
The proceeds, about RUB 100-200 mln, will be used to finance scrapping of other Atomflot vessels. The Arktika and Russia icebreakers have been decommissioned by today.
Nuclear-powered icebreaker Sibir was built by Baltiysky Zavod and put into operation in 1977. The ship was taken out of service in 1992.
Characteristics of the Sibir: length - 148 m, width – 30 m, depth – 17.2 m, designed draught – 11 m, displacement – 23,460 t, power – 75,000 h.p., maximum speed in open water – 18.0 knots.
Source: Rosatomflot