Sovcomflot (SCF Group) has just celebrated its tenth anniversary as an independent operator of gas carriers, since the first LNG (liquefied natural gas) carrier joined its fleet on 7 November 2006. The start of gas carrier operations, marked a breakthrough for Sovcomflot into a new market segment that was previously inaccessible for Russian companies.
Today, SCF's fleet includes eight LNG carriers and four LPG (liquefied petroleum gas) tankers. These vessels serve well-known global clients such as Gazprom Marketing & Trading, Sakhalin Energy, Shell, Tangguh, Transammonia, and Sibur.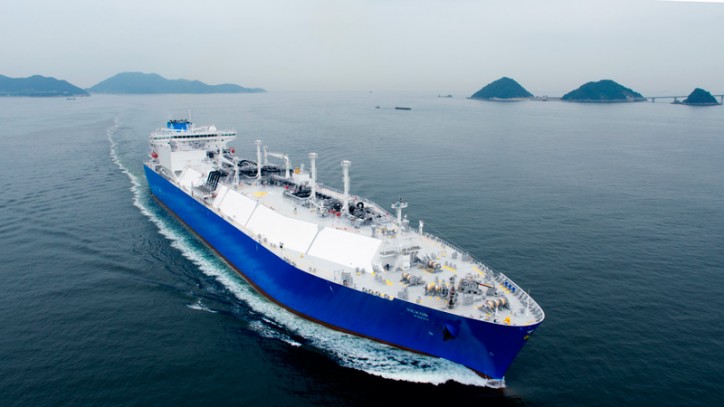 The new state-of-the-art 170,000m³ liquefied natural gas carrier Pskov named after one of the oldest Russian cities. The ship is chartered to Gazprom Global LNG (GGLNG) under a long-term contract. - Image courtesy of SCF
Russia accounts for a third of global gas reserves, so satisfying the seaborne transportation requirements of Russian oil and gas companies remains a strategic priority for Sovcomflot.
SCF is the only Russian company that has experience in operating a gas fleet, and that can compete on an equal footing with foreign ship owners in international tenders. The geography of operations of SCF's fleet encompasses all major regions that produce and consume liquefied gas. Vessels are engaged in various Russian and international projects, such as Sakhalin-2, Yamal LNG, and Tangguh.
"At the current stage, the most interesting and in-demand projects in LNG transportation are floating storage regasification units (FSRUs). With a relatively small market volume (currently it is 5% with the prospect of doubling in three years), this segment is developing very actively. Small scale LNG carriers and coasters that supply gas to LNG bunkering stations and consumers in remote locations are another interesting area. Sovcomflot is exploring the possibility of expanding into these segments," commented Dmitry Rusanov, Head of Gas Carrier Division.

"The Yamal projects will continue to develop: the matter of providing vessels to transport gas from the Yamal LNG plant under construction is almost resolved, but the next stage - the Arctic LNG-2 project on the Gydan Peninsula – is on its way. We hope for the implementation of the Sakhalin-2 third phase and the Baltic LNG project in 2020-2022. Possibly another plant, the Far East LNG, will see the light of day. All of them will require modern, high-performance vessels and skilled navigators and engineers with experience on ships operating in frozen seas. As a customer-oriented company, capable of providing reliable and safe transportation for hydrocarbons in any climatic conditions, Sovcomflot is ready to expand its cooperation with clients."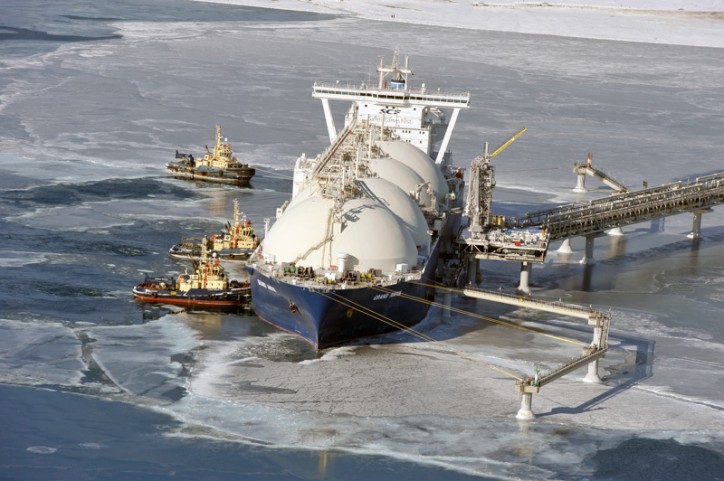 Grand Aniva is one of two Sovcomflot LNG tankers chartered by the operator of the Sakhalin-2 project – Sakhalin Energy Investment Company (SEIC). Image courtesy of SEIC.
History of SCF's gas fleet
After winning a tender in 2006, Sovcomflot purchased two LNG carriers, SCF Arctic and SCF Polar, from BG Group. SCF's first LNG carriers were chartered to Stream LNG, the largest LNG supplier to the Spanish market and a leading supplier in South America.
Sovcomflot managed to fully justify the trust placed in a novice gas fleet operator: the vessels scrupulously complied with the charter terms, transporting liquefied gas from Qatar and Algeria to Spain and France, and from Trinidad and Tobago to the United States. SCF's first LNG carriers were sent for scrap only in 2014, having served for 45 years, a record amongst similar vessels. This was possible thanks to the competence of the crews and the high professionalism of the on-shore team at SCF Management Services (Cyprus).
By the spring of 2007, the two LPG carriers, SCF Tobolsk and SCF Tomsk, built to order for Sovcomflot joined the company fleet.
Soon afterwards, the construction of four LNG carriers, ordered in partnership with Japan's NYK Line, was completed. Consequently in 2008, Unicom (since 2016 – SCF Management Services (Cyprus)) started to operate the spherical-tank LNG carrier Grand Aniva. NYK became the technical manager of the similar vessel Grand Elena, as well as the two membrane-type LNG tankers, Tangguh Towuti and Tangguh Batur.
2014-2015 saw the delivery of the latest-generation LNG carriers of the Velikiy Novgorod class, with multi-fuel diesel-electric propulsion systems, which have a higher fuel efficiency than the vessels previously built to transport methane. In addition to optimising bunker consumption, the use of new insulating compositions developed by the French company GTT enabled a significant reduction in boil-off gas rates.
The ordering and construction of the lead prototype vessel for the Yamal LNG project can be regarded as truly revolutionary. The vessel features a high icebreaking capability and high specific power provided by a unique propeller-rudder system, comprising three Azipods with a total capacity of 45 MW. This is comparable to the power of modern nuclear icebreakers of the Yamal type. The vessel has completed sea and gas trials at the DSME shipyard, and is now preparing for the voyage to the Arctic to complete the full cycle of trials with the subsequent planned delivery to the customer.
In addition to LNG carriers, two LPG tankers, Sibur Voronezh and Sibur Tobol, have joined the company's fleet over the past five years. These vessels are chartered out to Sibur, delivering propane and butane from the Port of Ust-Luga, where a modern LPG terminal was launched in 2013, to North and West European markets.
Source: SCF