OPDR, as part of the CMA CGM Group, announced yesterday the 500th voyage of its Con/Ro vessel OPDR Canarias. The vessel completed its 500th voyage with the calling at the Port of Seville on November 22nd where it was solemnly welcomed by OPDR staff and the Port Authority of Seville. Since it was put into service in 2006, the vessel has travelled an astonishing distance of 750,000 nautical miles – which equates to 34 times around the globe.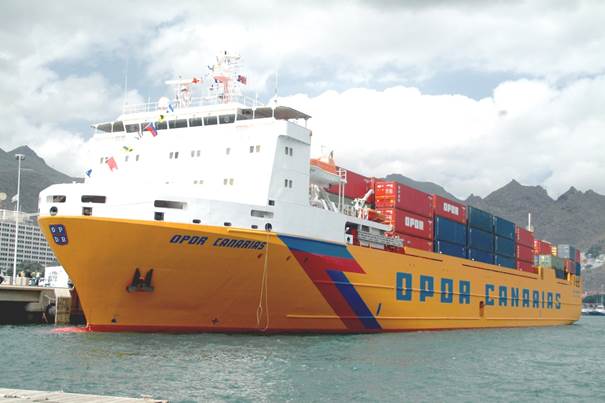 When the construction of the Con/Ro vessel OPDR Canarias was completed in China in 2006, it set course for its destination and designated operating region: The Canary Islands and Spain. Ten years and 500 voyages later, the OPDR Canarias is still successfully deployed in this region and reliably operates between the ports of Seville, Santa Cruz de Tenerife, Las Palmas de Gran Canaria and Arrecife de Lanzarote. Up to now, the 145-meter long vessel with a gross tonnage of 11,300GT has travelled a distance equivalent to 34 times the length of the equator or twice the distance to the moon and back.
Since 2006, six different Captains were in charge for a total of 2.5 million tons of cargo, including extraordinary shipments such as helicopters, an entire "Cirque du Soleil" as well as all the equipment for a "Disney on Ice" show. Naturally, the Con/Ro vessel OPDR Canarias also transported plenty of rolling cargo – a total of 50,000 wheeled units such as cars, trucks and busses.
Till Ole Barrelet, Chief Executive Officer of OPDR, states: "500 voyages within just 10 years is a great achievement for a short sea vessel in this trade. Not many vessels in Spain have performed that well in such a short time span. We are looking forward to many more successful years to come."
Both the OPDR Canarias and its sister vessel OPDR Andalucía are deployed in the SECI service and were specially adapted to the conditions of the Guadalquivir river, Seville's gateway to the world. OPDR also perfectly connects the Port of Seville with the Spanish inland: Five trains per week link Spain's capital Madrid with Seville and eventually with the Canary Islands.
Source: OPDR