MSCC Bronka (Multipurpose Sea Cargo Complex Bronka, Big Port St. Petersburg) is included into the new seasonal service AGAX connecting Morocco with Saint-Petersburg launched by CMA CGM GROUP/OPDR (Oldenburg-Portugiesische Dampfschiffs-Rhederei) in November 2016, says press center of MSCC.
Port rotation: Casablanca – Agadir –Rotterdam – Bronka/Big Port St. Petersburg.
Transit time between Agadir and Petersburg – nine days.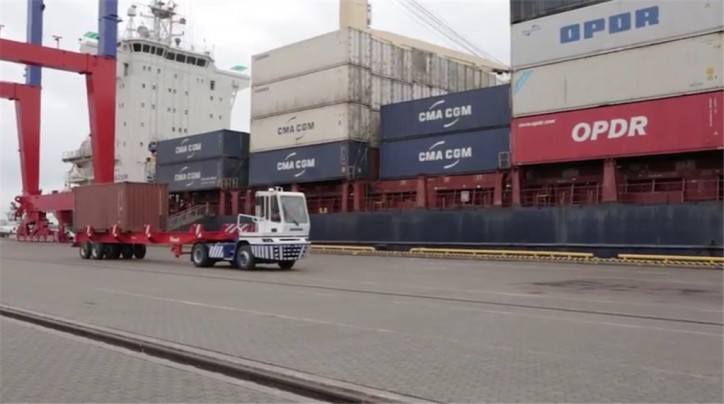 Loading operations at port of Bronka - Image courtesy: Port of Bronka
"Six containerships deployed at the service have an average capacity of 860 TEUs and can accommodate 45ft pallet wide high cube reefers. 230 reefer plugs are available at each vessel. With this service, fresh tangerines and other fruits and vegetables can be delivered from Morocco to the Russian Federation without transshipment in the ports of the Northern Europe," says the statement.
The agent of CMA CGM GROUP/OPDR in Russia is CMA CGM Rus.
The capacity of Bronka's Phase 1 is 1.45 million TEUs and 260,000 units of Ro-Ro cargoes. In the future the MSCC Bronka expansion will help increase the facility's container throughput to 1.9 million TEUs. Upon completion of the port's construction and dredging MSCC Bronka will be able to accommodate Post-Panamax containerships and the ferries of Finnstar class. The Bronka Complex will comprise three specialized facilities: a container terminal encompassing 107 hectares, the Ro-Ro terminal of 57 ha and a logistics center of 42 ha. Container terminal will have a 1,220 m-long quay wall (including 5 berths). The length of Ro-Ro terminal's dock line will be 710 meters (3 berths). Implementation of the Bronka project is expected to generate 2,300 jobs in the region.
Source: Port Bronka