Port of Brisbane has welcomed its first 8500 class vessel into the port, the Maersk Lloyd Don Carlos, proving the capabilities of the port.
Port of Brisbane Pty Ltd (PBPL) CEO, Roy Cummins, said this was a significant milestone in the Port of Brisbane's ongoing work to optimise its navigational channel and ensure Brisbane was able to safely handle the larger container vessels and bulk carriers of the future.
"As vessels increase in size and demand grows for Australian ports to take these larger vessels, PBPL has taken a firm view that in the future, Port of Brisbane will never be the limiting factor on the east coast of Australia," said Mr Cummins.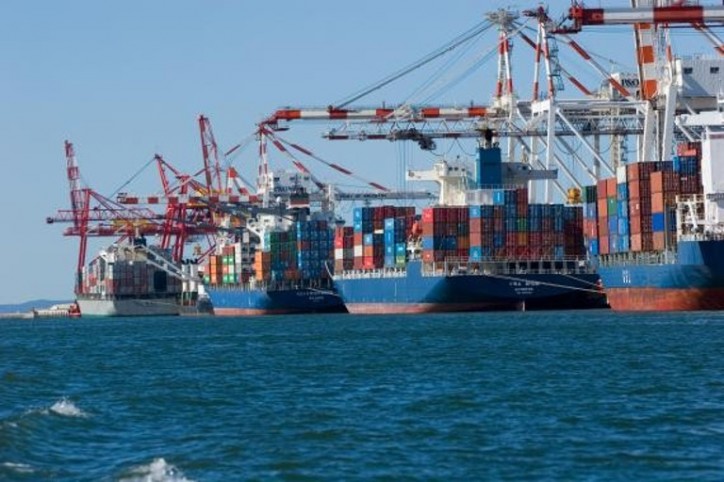 Container ships at Port of Brisbane - Image courtesy: PBPL
"Far from being the limiting factor this confirms that, under certain tidal conditions, Port of Brisbane is able to accommodate 8500teu vessels. This is a very positive outcome for our customers, exporters and the Queensland economy more broadly," he said.

"As the international freight task continues to grow, we are beginning to receive requests to handle 8500teu vessels. The arrival of the Lloyd Don Carlos has provided real-time information to help us calibrate the future requirements of Port of Brisbane's navigational channel."
Port of Brisbane worked closely with key stakeholders including Maritime Safety Queensland, Brisbane Marine Pilots, Maersk and Patrick Terminals, while using underwater keel clearance technology to inform the early simulation exercises and the vessel's actual arrival/departure. A great example of collaboration and innovation in action at the Port of Brisbane.
The Maersk vessel exchanged approximately 700 containers, discharging empty refrigerated containers and loading chickpea container exports. The ship berthed at Patrick Terminals while in port.
During its time at the Port of Brisbane, PBPL presented the captain of the vessel with a plaque to commemorate its maiden voyage.
Port of Brisbane facilitates the majority of Queensland's international containerised trade and in 2015/16, the Port's container trade grew to more than 1.14 million teus, led by full import containers which grew 1.7% on the previous year.
Key vessel details:
- Capacity: 8533 teu
- Length overall: 334m
- Breadth: 42m
- Gross tonnage: 91649
Source: Port of Brisbane