SM Group, which owns South Korea's No. 2 bulk carrier Korea Line Corp., is seeking to buy a partial stake in Hanjin Shipping's port terminal in Long Beach, California, after acquiring the troubled shipper's U.S.-Asia route and other assets.
An official from SM Group said on November 30, "We are considering the plan to jointly acquire 54-percent stake in the port terminal in Long Beach with Hyundai Merchant Marine (HMM)." The company recently informed the government of its plan to buy the stake in terminal with a 50:50 ratio.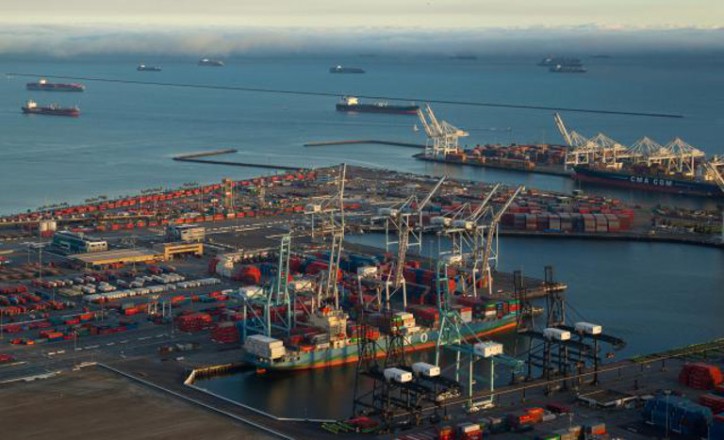 Image courtesy: Port of Long Beach
Previously, the court had selected SM Group as preferred bidder to acquire the Long Beach terminal. The group didn't disclose the accurate bidding price at that time.
Under the circumstance, the court received a price proposal from HMM and Hahn & Company through the managing underwriter of the sale on November 28. HMM formed a consortium to participate in the bid. As SM Group had financial problems, the court received bids in order to set the standard price after negotiating with MSC, the second largest shareholder of the Long Beach terminal, and creditors.
The court plans to fix and propose the reasonable price to the preferred bidder SM Group shortly. When SM Group accepts the proposal, it can solely take over the terminal. However, some say that the company is unlikely to do so considering its current financial conditions.
Hanjin Shipping took out 300 billion won (US$255.75 million) of loans on the stake in the Long Beach terminal as security from six foreign financial institutions before filing for court receivership. Creditors is asking a new owner of the terminal to take up the burden of 300 billion won (US$255.75 million) as well on the basis of the management right disclaimer received from Hanjin Shipping at that time. Given the terminal operation funds of 100 billion won (US$85.25 million), a buyer needs at least 400 billion won (US$341 million) to acquire the terminal.
The buyer of the Long Beach terminal will be decided before December 15 at the latest. MSC, a Switzerland-based container shipping company which has the right of first refusal for the Long Beach terminal, demanded to complete the domestic bidding procedure by December 15. MSC and creditors are also considering another plan that MSC increases capital and buys back the 100 percent stake after filing for bankruptcy protection in the U.S. depending on negotiations with domestic companies.
Source: Business Korea