Tsakos Energy Navigation Limited (TEN) (NYSE: TNP), a leading diversified tanker owner, yesterday announced new time charter contracts for four vessels, an aframax, two panamaxes, and a handysize product tanker, all to major end users. The average contract length of all four fixtures is 14 months which bring the aggregate fleet gross revenues to a minimum of $1.4 billion.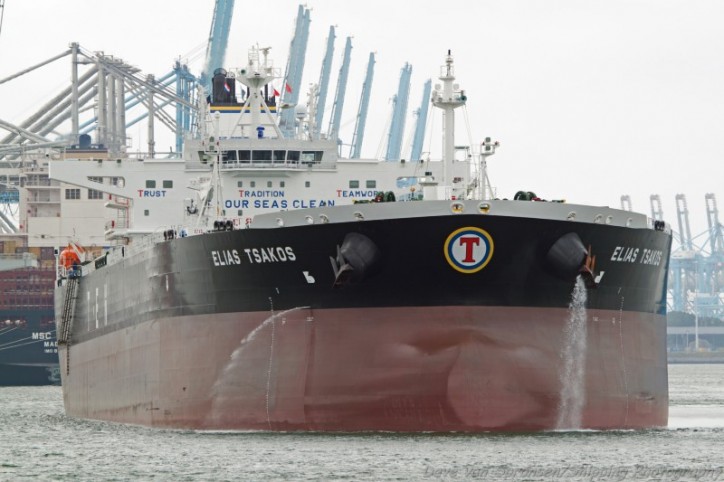 Crude Oil Tanker Elias Tsakos - Image courtesy of Dave van Spronsen/shipspotting
"The new time charters increase TEN's fleet under secured revenue employment to 68%. With seven more vessels delivering in 2017, six of which under long term charters, the coverage will well exceed 70%. Responding to our charterers' appetite, we will be reaching our long term coverage goal well ahead of schedule," stated Mr. Nikolas P. Tsakos, President and CEO of TEN and current Chairman of INTERTANKO.

"Repeat business from first class clients fits well with our industrial shipping model, solidify further our balance sheet, and support TEN's continued profitability, all attributes which should ultimately be reflected in TEN's true valuation," Mr. Tsakos concluded.
TEN's pro-forma fleet, including one VLCC, five Aframax tankers and a Suezmax DP2 shuttle tanker under construction, consists of 65 double-hull vessels, constituting a mix of crude tankers, product tankers and LNG carriers, totalling 7.2 million dwt. Of these, 45 vessels trade in crude, 15 in products, three are shuttle tankers and two are LNG carriers.
Source: TEN