Hyundai Merchant Marine Co. (HMM) has started its final talks to join a global shipping alliance to survive the cutthroat competition in the global shipping sector.
According to the sources, the shipper's negotiation team began the talks in Copenhagen with 2M Alliance, the world's largest shipping association, with the results likely to be announced over the weekend at the earliest.
Since May, Hyundai Merchant has been seeking to become a member of 2M, one of the prerequisites set by its creditors to avert court receivership.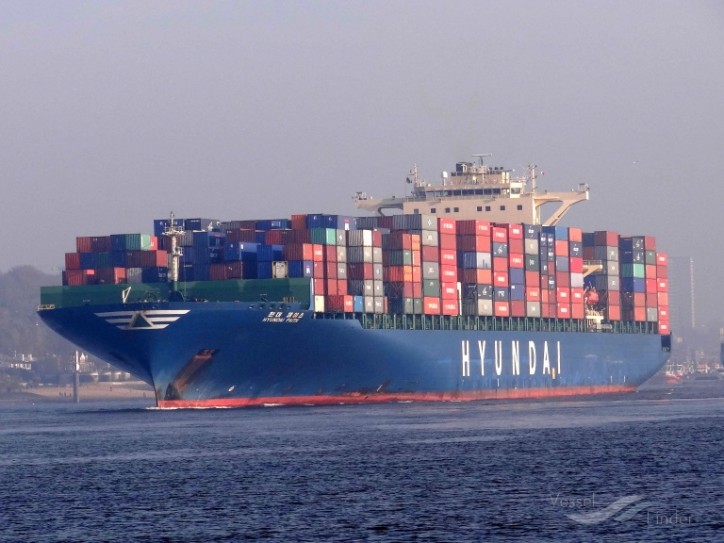 Container ship Hyundai Faith - Image courtesy: Wolfgang Berthel
In April, its creditors, led by the state-run Korea Development Bank, approved the shipper's restructuring plan in return for the company meeting three key conditions -- a debt recast, a charter rate cut and inclusion in a global shipping alliance.
In July, Hyundai Merchant signed a memorandum of understanding with the world's largest shipping alliance led by AP Moller-Maersk A/S and Mediterranean Shipping Co., two key members of 2M, but the shipper is seeking to sign a formal deal on membership. The 2M Alliance currently handles 28 percent of the global sea container cargo.
The membership in a global alliance is crucial for the shipper to take on bigger rivals amid a glut in capacity, which has led to a drop in freight rates.
Hyundai Merchant Marine, currently under a creditor-led restructuring scheme, is seeking to take over key assets from Hanjin Shipping Co., which has been under receivership since September.
Earlier, the financially troubled shipper said the talks were still underway, denying news reports that the negotiations have fallen apart.
If reached, the deal would allow Hyundai to operate as a member of the 2M Alliance starting in April next year and boost its desperate efforts to stay afloat amid multibillion-dollar debt.
Meanwhile, a consortium led by Hyundai Merchant is highly likely to be chosen as the preferred bidder for Hanjin Shipping Co.'s U.S. port terminal as a mid-sized local shipping firm has withdrawn its bid to buy a stake in one of the troubled shipper's lucrative assets.
SM Group, a mid-sized business conglomerate that owns South Korea's No. 2 bulk carrier Korea Line Corp., abandoned its status as the preferred bidder for a 54-percent stake in the port terminal in Long Beach, California.
Hanjin Shipping, the nation's No. 1 shipper that is currently under court receivership, has been seeking to sell its assets in an effort to survive an industry-wide slump and cash shortage. Hanjin Shipping and local shippers have been under financial strain due to falling freight rates stemming from an oversupply of ships and a protracted slump in the global economy.
Source: Yonhap